Pentagon planning troop reduction in Iraq
With an interim Iraqi government now in place, the Pentagon is beginning long-range planning on how to reduce the number of US troops in Iraq, senior military officials said Wednesday.
Pentagon officials have previously said that about 135,000 troops would stay in Iraq through the end of next year. But the military's Joint Staff is working on detailed plans to reduce that number by 2006, on the assumption that Iraqi army and other security forces will by then be ready to take on more responsibility, officials said.
On Capitol Hill Wednesday, the top operations officer for the Joint Staff, Lieutenant General Norton Schwartz of the Air Force, signaled that this thinking is well under way. When asked about planning for the size of the US force that will move into Iraq for yearlong assignments beginning in late next year and early 2006, he declined to specify troop figures but said: "There is a significant planning effort that will wrap up later this summer."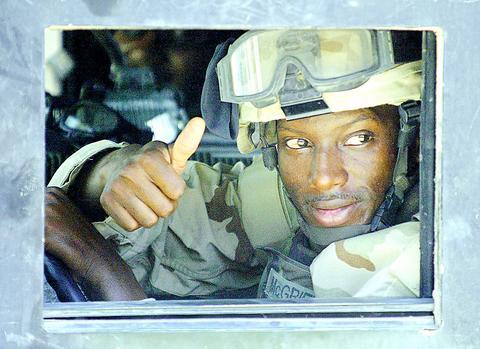 A US soldier driving an armored vehicle gives a thumbs-up to Iraqi people during a patrol in central Baghdad yesterday. Violence flared in Baghdad as the new interim government unveiled sweeping security measures aimed at crushing the tenacious insurgency, and interim Prime Minister Iyad Allawi scheduled talks with the EU next week on his country's reconstruction.
PHOTO: AFP
A senior defense official said later that the Joint Staff was developing options for a smaller force in Iraq, proposals that would be consistent with the goal of General John Abizaid, the top US commander in the Middle East, to reduce US military presence in Iraq over time. Some officials said those options center around 100,000 troops, or less, but troop levels could also increase if security in Iraq worsened.
Reducing US force levels in Iraq has been a goal of the Bush administration, although any reduction would almost certainly come after the November elections.
The continued US presence is also a sore spot for the new Iraqi government as it seeks to establish credibility with the Iraqi people. And reducing it would lessen the strains placed on the US Army by troop commitments in Iraq, Afghanistan and other countries.
Democrats and Republicans voiced concern at Wednesday's hearing that the Army was wearing out its active duty and reserve forces, a worry that even a top Army officer said he shared.
"Are we stretched thin with our active and reserve component forces right now? Absolutely," said General Richard Cody, the new Army vice chief of staff.
But Cody, along with the Pentagon's top personnel official, David Chu, said the Army was meeting its commitments, and recruiting and retention were still generally strong.
For the first time, Schwartz outlined the Pentagon's strategy for how Iraqi national guard and army forces could gradually replace US troops around the country, starting in the relatively stable north where he said security patrols will soon be conducted exclusively by Iraqi forces. In parts of the country where the insurgency is still fierce, US forces will remain in strength and conduct patrols on their own or with Iraqi troops.
"The bottom line is, is that this will be done incrementally and it will be done in locations around Iraq where transitions can occur and the Iraqi security forces can be successful," said Schwartz, who said that as Iraqi forces prove they can secure a region, US forces there will move to more restive areas.
"We will cascade American forces from those locations to places where they can be better utilized," Schwartz said. "And ultimately, naturally, we'll reduce the force structure in Iraq."
Comments will be moderated. Keep comments relevant to the article. Remarks containing abusive and obscene language, personal attacks of any kind or promotion will be removed and the user banned. Final decision will be at the discretion of the Taipei Times.