North Koreans remember `Great Leader' 10 years on
North Korea mixed threats to deal "merciless crushing blows" to the United States with gushing tributes to state founder Kim Il-sung on yesterday, the 10th anniversary of his death.
Kim's reclusive son and successor Kim Jong-il led the leadership to remember Kim Il-sung in a 55-minute memorial ceremony broadcast on state television. The "Great Leader" Kim died on July 8, 1994 after 46 years in power.
"He is, indeed, a peerless patriot, father of the nation and great sage of revolution who devoted his whole life to the freedom and happiness of the people," said Kim Yong-nam, the North's No. 2 leader and president of parliament.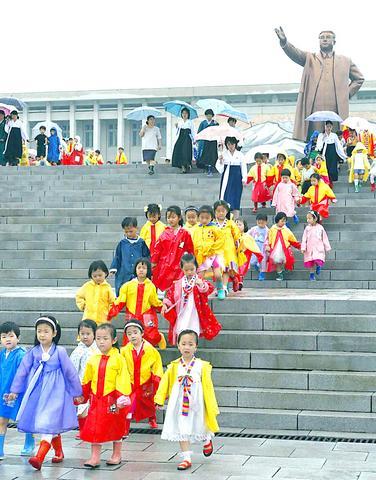 Children leave Mansudae after paying homage to the statue of late North Korean leader Kim Il-sung in central Pyongyang, North Korea on Wednesday, one day before the 10th anniversary of Kim's death.
PHOTO: AP
Kim Jong-il, who has led the country for the past decade, was shown walking into the ceremonial hall and bowing. Maintaining his record of rarely speaking in public, he was not among the three officials who addressed the gathering.
Parliament president Kim Yong-nam praised the younger Kim for his "scientific insight into the urgent demand of the times and the acute situation."
North Korea has suffered a decade of economic decline, lost at least a million people to famine and is diplomatically isolated as a result of its attempts to build nuclear weapons.
Kim leads the North as the chairman of the National Defence Commission and the supreme commander of the 1.1-million-strong Korean People's Army. He uses the ideology "Songun" -- or military first -- to justify the army's domination of the state.
In South Korea, one aspect of the Kims' legacy was being marked with commemorations of the fifth anniversary of Hanawon, a government-run halfway house where North Korean refugees have been trained for life in the prosperous South.
Nearly 5,000 North Koreans have found asylum in the South in recent years.
Defense Minister Kim Il-chol told the crowd that North Korea was ready to defend itself against US aggression.
"If the US imperialists start a war in the end, the KPA will mobilize the the military deterrent force built up for years and thus conclude the confrontation with the US with merciless crushing blows," he said.
Comments will be moderated. Keep comments relevant to the article. Remarks containing abusive and obscene language, personal attacks of any kind or promotion will be removed and the user banned. Final decision will be at the discretion of the Taipei Times.