Iraqi government unveils security law
NEW POWERS Security measures enacted by the interim Iraqi government allow Baghdad to impose curfews, set up checkpoints and detain suspects
Iraq's interim government unveiled a new security law yesterday that grants it wider powers to combat insurgents and foreign Muslim militants.
Just hours before the announcement, which had been twice delayed, guerrillas fired several mortar rounds in Baghdad, wounding eight people, police and hospital staff said.
Several were hurt when two rounds hit a medical center near the office of Prime Minister Iyad Allawi's Iraqi National Accord party in the western district of Mansour, police said.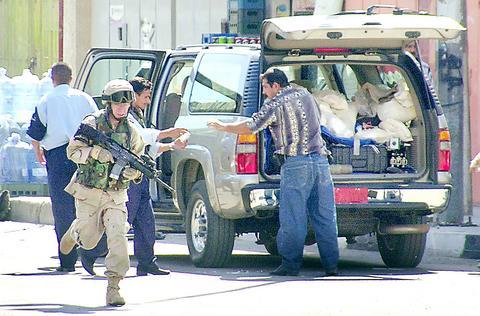 A US soldier runs as Iraqi police search for explosives in vehicles near the Al-Iman Mosque, a Shiite mosque in the Karada neighborhood of Baghdad, Iraq, yesterday. The interim government also yesterday signed into effect a new security law giving itself wider powers to combat militants.
PHOTO: AP
Another round landed in a residential street in the Dora district in the south of the capital.
The US military had no immediate comment on the blasts, but said guerrillas had killed four US marines in the Sunni Muslim heartlands west of the Iraqi capital on Tuesday. The Pentagon says 646 US servicemen have been killed in action in Iraq since the start of the war last year.
Foreign Minister Hoshiyar Zebari has said the new security law empowers the government to impose curfews, set up checkpoints and search and detain suspects. The measures will be temporary and will apply only in parts of Iraq.
Allawi's office said ministers would explain details of the National Safety Law later on Wednesday.
The widely anticipated law had been delayed several times as the government, which took over sovereignty from the U.S.-led occupation on June 28, ironed out the details and consulted with U.S. officials, political sources said.
Allawi's government has said it also plans to restore the death penalty, suspended during the US-led occupation, and offer a temporary amnesty for rebels who fought coalition troops.
A suicide car bombing that killed six people in the town of Khalis, north of Baghdad, on Tuesday broke a relative lull in violence since the interim government formally regained sovereign powers from a US-led administration on June 28.
OIL EXPORTS RECOVER
Iraq's vital oil exports returned to normal levels after repairs to a pipeline damaged by weekend sabotage that had helped send world oil prices to one-month highs.
Exports were back to 1.7 million barrels a day after the sabotage had cut them to 1 million, a shipping agent said.
Allawi, like Washington, blames Saddam Hussein supporters and foreign militants for sabotage, guerrilla attacks and kidnappings aimed at making postwar Iraq ungovernable.
US defense officials said 90 of 5,700 security detainees in Iraq were foreign fighters, about half of them Syrians. Others were from Egypt, Iran, Jordan, Yemen and Saudi Arabia.
Unidentified militants have kidnapped an Egyptian driver who was delivering petrol from Saudi Arabia to the US military in Iraq, al Jazeera television reported.
Jazeera aired a video tape from the unnamed group, which said it represents the "legitimate Iraqi resistance," showing four armed men standing behind the seated hostage, identified by the television as Sayed Mohammed Sayed al-Arabawi.
The Egyptian embassy in Baghdad and US military said they had no information about the reported abduction.
Dozens of foreigners have been kidnapped in Iraq since April. At least four have been killed, including an American and a South Korean beheaded by the Jama'at al-Tawhid and Jihad group led by al-Qaeda ally Abu Musab al-Zarqawi.
US planes bombed a suspected Zarqawi "safe house" in the western city of Falluja on Monday, killing 13 people, in the fifth such strike in three weeks. Allawi said his government had supplied the intelligence that led to the air raid.
"The people of Iraq will not tolerate terrorist groups or those who collaborate with any other foreign fighters such as the Zarqawi network to continue their wicked ways," he said.
There was no word on the fate of a kidnapped Lebanese-born US Marine reported to have been released on Tuesday.
Wassef Ali Hassoun's brother Sami, speaking from the northern Lebanese city of Tripoli, said his family had received word Hassoun was alive and had been freed in the early hours.
Comments will be moderated. Keep comments relevant to the article. Remarks containing abusive and obscene language, personal attacks of any kind or promotion will be removed and the user banned. Final decision will be at the discretion of the Taipei Times.