Liberals looking wobbly in Canadian elections
Canada stood yesterday on the threshold of a new era of political turmoil, with voters expected to chastise the ruling Liberals and return a minority government in the closest general election in decades. \nPolls show the centrist Liberal Party, in power for a decade, in a virtual dead heat with the Conservative Party, while Quebec separatists seem set to hold the balance of power in voting yesterday. \nPolitical observers expect the election to produce an unwieldy coalition and ultimately new elections, perhaps as soon as late this year. \nPrime Minister Paul Martin jetted from coast to coast in a last-ditch bid to keep his job on Sunday in the dying hours of a month-long campaign. \nBut voters were still expected to strip Martin of his majority in the House of Commons as punishment for a 1990s patronage scandal which saw millions of dollars of public money diverted to Liberal-friendly advertising firms. \nMartin visited eastern Nova Scotia before stops in Ottawa, the central city of Winnipeg, and western British Columbia before a scheduled return home to Montreal early yesterday. \nThe prime minister, presenting himself as guardian of Canada's state healthcare system, is seeking a first personal mandate from voters, and a fourth consecutive election win for the Liberals. \nBut final opinion polls suggest the election is a virtual dead heat between the Liberals and opposition Conservative Party. \nNeither party is expected to win an overall majority so the election will likely usher in a period of prolonged political uncertainty after more than a decade of Liberal rule. \nMartin, who took over from former prime minister Jean Chretien in December, rolled up his pants and went for a paddle in the North Atlantic in Nova Scotia, and said he couldn't take a single vote for granted. \n"Why are we working so hard? We're doing it because we're fighting for the Canada we want," he said. \nBut Conservative leader Stephen Harper, who wants to devolve power to the provinces, hike military spending and provide a middle class tax cut, accused Martin of panicking. \n"This is just panic when you start pulling up your travel schedule and flying all over the country," he said. \nOnly in recent days has Martin checked a surge by the Conservatives, who are threatening in traditional Liberal territory in Ontario. \nTwo smaller groups, the Bloc Quebecois, a separatist party in the francophone province of Quebec, and the left-of-center New Democratic Party (NDP), look set to play a key role if the bigger parties go searching for a coalition partner.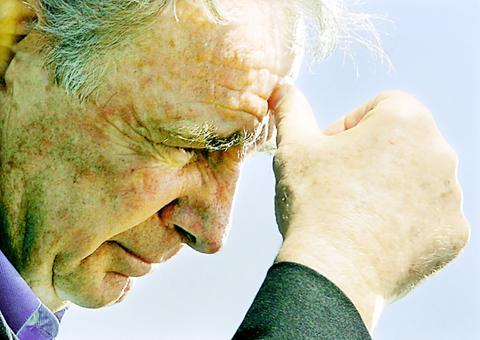 Canadian Prime Minister Paul Martin pauses while speaking to reporters during a campaign stop Sunday in Wolfville, Canada.
PHOTO: AFP
Comments will be moderated. Keep comments relevant to the article. Remarks containing abusive and obscene language, personal attacks of any kind or promotion will be removed and the user banned. Final decision will be at the discretion of the Taipei Times.