Mexicans march against crime
FED UP Tens of thousands of people took part in the protests in the capital, Tijuana and other cities, angered by a recent wave of brutal kidnappings and murders
At least a quarter of a million Mexicans marched through the capital and other cities on Sunday to protest authorities' failure to control lawlessness in one of the world's most crime-ridden nations. \nIn the biggest demonstration in Mexico in more than 10 years, protesters dressed in white filled Mexico City's main Zocalo Square, which holds more than 100,000 people, and packed surrounding avenues. \nMany carried banners urging the death penalty for kidnappers, rapists and murderers. \nEven crime-hardened Mexicans have been shocked by a recent wave of kidnappings. In one case last month, two brothers were abducted, shot dead and their bodies dumped in a garbage bin even though their parents had paid a US$600,000 ransom. \nThe bells of the city's cathedral rang out to greet marchers who sang Mexico's nation anthem in the square. \nIn Tijuana, near the US border, 15,000 people marched through to protest crime, and smaller protests took place in other Mexican cities, local media said. \nMexico United Against Crime, one of the march organizers, said anywhere between 350,000 and two million people took part in the protest. Local media put attendance at more than 250,000. \nFrom 1992 to 2002, Mexicans reported at least 15,000 kidnappings, second only to war-torn Colombia, according to the Inter-American Development Bank. \nMarch organizers said most violent crime goes unreported, partly because of police corruption and a sense that nothing will be done. \n"We are afraid. We can't go out onto the street and the police do absolutely nothing to protect us," said Yolanda Tellez, 62. \nA group of businessmen hired New York's crime-busting former mayor Rudolph Giuliani last year for US$4.3 million to help clean up Mexico City and police say tough new "zero tolerance" measures in the capital are working. \nBut kidnapping and assaults are still common and federal police last week arrested a group of elite policemen in Mexico City who abducted businessmen using false arrest warrants. \nThe march has pitted President Vicente Fox against political rival Andres Manuel Lopez Obrador, the mayor of Mexico City, who protesters accuse of being too soft on violent crime. \nConservative Fox said last week he was waging "the mother of all battles against crime" and urged Mexico City's leftist administration to do more. \nBut protesters were unimpressed by both Fox and city hall. \n"They have politicized the issue so much instead of doing something about crime," said Victor Manuel Rojas, riding a horse and carrying a flag with Mexico's patron saint, the Virgin of Guadalupe. \nThe event was billed as silent but protesters broke into chants of "Mexico, Mexico." \nThe murder of crusading journalist Francisco Ortiz Franco in Tijuana this week was a reminder that drug gangs flourish on the US-Mexican border despite a crackdown by Fox's government. \nPolice have also failed to make headway in solving the murders of more than 300 women in the last 10 years in the city of Ciudad Juarez, near the border with the US. Amnesty International has accused police in the city of gross negligence in failing to end the killings. \nIn Mexico City, marchers carried photographs of murder victims. \n"She was my cousin," said protester Eduardo Torres, clutching a framed picture of a young girl in a party dress. "They kidnapped her and killed her two months ago."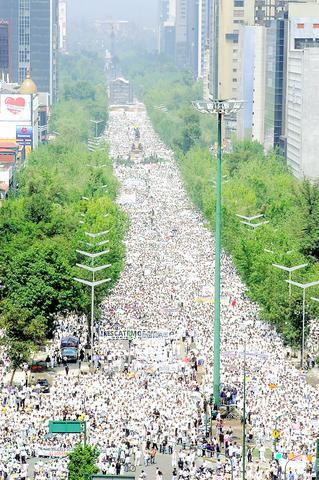 An estimated 200,000 Mexicans dressed in whites clothes march down a main street in Mexico City yesterday to protest against a recent wave of kidnappings and murders that have outraged the country.
PHOTO: EPA
Comments will be moderated. Keep comments relevant to the article. Remarks containing abusive and obscene language, personal attacks of any kind or promotion will be removed and the user banned. Final decision will be at the discretion of the Taipei Times.