US and its partners press N Korea to give up nukes
HIGH-LEVEL TALKS Efforts to convince North Korea to abandon its illicit nuclear program will continue today, as diplomats from six countries hold negotiations
The US and its partners were pressing North Korea to give up nuclear weapons development and discussing ways of offering aid in exchange as they prepared for high-level talks today on the dispute.
Diplomats from the North, the US and four other countries were meeting yesterday at a Chinese government guesthouse to discuss the agenda for a third round of talks on Washington's demand that Pyongyang abandon its weapons ambitions.
US officials said Washington and its allies are working on a plan to provide assistance to North Korea's faltering economy if the isolated dictatorship commits to dismantling its weapons program.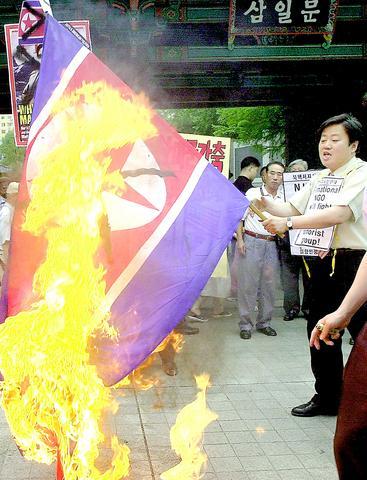 A South Korean conservative activist burns a North Korean flag during a protest in downtown Seoul yesterday. The activists demanded that North Korea unconditionally scrap its nuclear program and open up to the international community. South and North Korea will hold a separate bilateral meeting today, on the sidelines of the six-party talks on Pyongyang's nuclear program, a South Korean official said.
PHOTO: AFP
At issue is when North Korea could start getting aid, and from whom.
The North wants aid in exchange for an initial freeze of its nuclear program. But the US has said it would offer assistance only once North Korea proves its willingness to undergo a "complete, verifiable and irreversible dismantling" of its program.
Under the plan that was discussed ahead of the talks that start today, the US wouldn't give assistance, but Japan and South Korea would provide aid in stages, a senior Bush administration official said in Washington.
North Korea has suffered food shortages and other problems since disclosing in the mid-1990s that its state-run farm system had collapsed after decades of mismanagement and the loss of Soviet subsidies.
Experts organized by the UN have been visiting the North in recent months to assess its needs for energy and other assistance in preparation for possible aid packages.
In Washington, US Secretary of State Colin Powell on Monday promised a "spirit of flexibility" in the talks.
In Tokyo, Japanese Chief Cabinet Secretary Hiroyuki Hosoda said Tuesday that North Korea appeared to be cooperating more actively in the talks and he expressed hope for "major progress."
"It seems North Korea is more actively trying to explain its policy to other countries this time," Hosoda said at a news conference. "The country has always demonstrated strong rejection to the others, but not this time."
Comments will be moderated. Keep comments relevant to the article. Remarks containing abusive and obscene language, personal attacks of any kind or promotion will be removed and the user banned. Final decision will be at the discretion of the Taipei Times.