One of India's oldest tribes dying of hunger
FORBIDDEN FRUIT Policies designed to protect the country's rapidly disappearing tree cover have been devastating for the Sabars, who have no livelihood outside of the forest
At first glance, this tribal village in eastern India looks tranquil, surrounded by green hills and verdant forests. \nBut in the cool air there is a whiff of something else. \n"You can smell hunger and death," said Sanatan Sabar, a gaunt young man in the remote village six hours from the sprawling port city of Calcutta. \nIn Amlasole, hunger is killing off members of one of India's oldest tribes, the Sabars. Trying to protect the environment and cut off militants hiding in the jungle, the government has forbidden locals from entering the forests -- the tribe's main source of food and income. \nThe policies went into effect a year ago, but they've only been enforced in recent months. Since the crackdown began, at least five Sabars have died in Amlasole, a village of about 100 people. \n"We have no food and many have died from hunger," said Sanatan Sabar, whose father recently died of hunger and disease. \nIndia is self-sufficient in food production, but starvation is reported every year in this country of a billion-plus people. Often, it is worst for India's indigenous people, known as tribals, who are commonly ignored by politicians and shunned by other Indians. \nAlthough just 250km from Calcutta, Amlasole is a century removed from modern India. There are no roads, electricity, clean drinking water or health care facilities. \n"But before any of these things, we need food. Otherwise we won't survive," said Budhu Sabar. \nWhile other nearby villages have suffered from the government policies -- designed, largely, to protect the country's rapidly disappearing tree cover -- they have been devastating for the Sabars, who have no livelihood outside of the forest. \nTraditionally, the Sabars made their living from selling firewood and leaves from kendu trees, used to make hand-rolled cigarettes, called bidis. \nThey lived on edible roots, wild fruits, snakes and rats from the forests. But these sources of food are now gone. \n"We can't go into the forest around which our lives are centered. Where will the food come from?" asked Kokila Sabar, a lean, hungry-looking woman wrapped in a tattered gray sari. \nFor about four months a year, the men can earn about 15 rupees (US$0.33) a day as agricultural laborers, using their meager earnings to buy food. \n"The rest of the year we depend on the forest produce. But, now the forest is out of bounds for us. So, for the rest of the year, we starve or have half a meal a day if lucky," said Budhu Sabar, a thin man in his early 20s. \nBudhu recently lost his father and two sisters. But, he says, he's not sure whether to mourn their deaths. \n"Who likes death? But, because of their deaths, we are now getting some food. Our children might just survive," said Budhu. \nOther villagers agree. After the recent spate of deaths, private charities began supplying the village with food. \nGroups of naked, emaciated children crowded the kitchens on Thursday to watch volunteers stir rice and lentils in huge black metal pots. Once done, the children sat in rows as volunteers poured the stew on large leaves that served as plates. Women and men were fed next. \nBut hunger is driving villagers secretly into the jungle. \n"We enter the forests like thieves looking for roots and wild fruits," said Mugi Sabar, another villager. \nState officials don't deny that people have died in Amlasole, but they insist the deaths are from malnutrition and disease, not starvation. \n"We are concerned with the situation," said West Bengal's top elected official Chief Minister Buddhadeb Bhattacharya. \nThat's not enough for the people of Amlasole. \n"Let the ministers come and live with us for some time and let them see what we eat," said an angry Kailash Munda, a local politician. "They never come here, so how will they know about our lives?"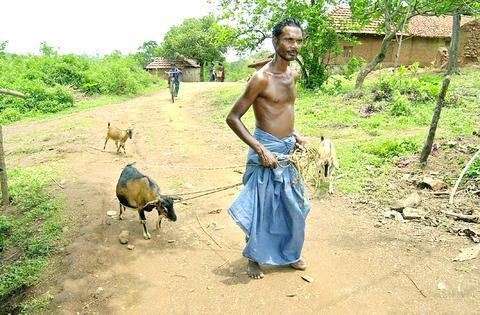 A villager walks his goats at Amlasole village, about 250km west of Calcutta, India, on Wednesday. Five Sabar tribesmen have starved in the village in the past three months.
PHOTO: AP
Comments will be moderated. Keep comments relevant to the article. Remarks containing abusive and obscene language, personal attacks of any kind or promotion will be removed and the user banned. Final decision will be at the discretion of the Taipei Times.