Reagan still dominates the US right
LIBERAL KILLER With his distaste for government and his hawkish foreign policy, Reagan put out to pasture a generation of elites known as `Rockefeller Republicans'
Former US president Ronald Reagan and his conservative revolution still exert a profound influence on the Republican Party and US politics more than 15 years after he left the White House for a quiet retirement in California.
Reagan, who died on Saturday at age 93, championed a conservative agenda of reduced taxes and government, a strong military and proactive challenges to overseas threats that has served as a blueprint for successors as varied as former US president Bill Clinton and US President George W. Bush.
Reagan initiatives like free trade zones and a missile defense system are now established government policy, while his staunch opposition to communism and the "evil empire" of the Soviet Union was credited with pushing the Communist state toward collapse and ending the Cold War.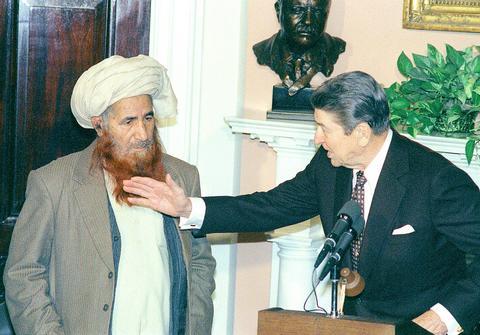 Former US president Ronald Reagan, right, speaks with Afghan resistance leader Yunis Khales, left, at the White House in November, 1987.
PHOTO: AFP
But perhaps his most lasting mark was his relentless optimism in the aftermath of the Vietnam War, the Watergate scandal and the hostage crisis in Iran, analysts said.
"He restored America's spirits," said Stephen Hess, a political analyst at the Brookings Institution.
"Those were not the happiest times for America, and he restored faith and optimism," Hess said.
While Reagan ultimately had little impact on social policy, despite his heated rhetoric on issues like abortion and school prayer, his "Reagan revolution" completely transformed the Republican Party, which had been split into conservative and liberal wings that struggled to compete with Democrats.
Since Reagan, the term "liberal Republican" has been consigned to history books, with the party's power base shifting from the elitist, Wall Street-oriented days of Nelson Rockefeller to a more Western-oriented and strongly conservative outlook.
"He brought the Republican Party into parity with the Democrats, something they had not been able to manage since the Great Depression," said Stephen Wayne, a professor at Georgetown University in Washington.
"Reagan gave the Republicans a discernible ideology, and it is the ideology that has been in vogue ever since -- smaller government, less taxes, more spending for defense, more reductions in regulations and government services," Wayne said.
His presidency also spawned a new generation of conservative activists, who served him in the 1980s and have since infiltrated every level of Republican politics in Washington and nationwide.
"He's the reason we got into politics and came to Washington," said Bill Kristol, editor of the conservative Weekly Standard and chief of staff to Education Secretary William Bennett under Reagan.
"He transformed the Republican Party, making it a voice for the values of hearth and home," said Gary Bauer, a domestic policy adviser to Reagan.
"His insistence that the American people were overtaxed led to the biggest decline in marginal tax rates in the history of the country and the revival of economic growth, the effects of which echo even today."
Critics are quick to point out disparities between Reagan's domestic rhetoric and his accomplishments. He cut taxes, but the government piled up mammoth debts during his years in the White House, with the deficit rising to nearly US$3 trillion from less than US$1 trillion.
He vowed to reduce the size of government, but it was larger when he left than when he arrived. After promising to eliminate two government departments -- Education and Energy -- he kept both in place and added a new one for veterans.
Also see story:
Comments will be moderated. Keep comments relevant to the article. Remarks containing abusive and obscene language, personal attacks of any kind or promotion will be removed and the user banned. Final decision will be at the discretion of the Taipei Times.