Confusion reigns as Indonesian elections approach
POLL Observers have called them the most complex elections ever to take place, and with voters spanning three times zones it will take days for the results to come in
The justice minister has threatened to arrest election officials, thousands of polling stations are without ballots and parts of war-torn Aceh are too dangerous to hold elections. \nBut none of that will stop Indonesia from holding parliamentary elections tomorrow for the second time since the fall of ex-dictator Suharto in 1998 -- though election officials acknowledge voting will be delayed for up to five days in the remote regions of Papua and West Irian Jaya. \n"Obviously [the delays] are disappointing but that is not a fundamental flaw in the process," said Glyn Ford, chief observer for the European Election Observation Mission which includes 230 monitors. \n"We have to put this in context," he said. "This is probably the biggest and most complex election in the world and takes place in a country that spans three time zones and includes some polling stations that are four or five days walk from the nearest road." \nThe reports of delays and government bungling have at times overshadowed campaigning in the run-up to tomorrow's vote, underscoring the chaotic nature of democracy in the world's most populous Muslim nation. \nSporadic violence marred the country's first democratic ballot in 1999 and the counting process took over two months. \nThe campaigning has been peaceful this time around despite warnings from intelligence and police officials that Islamic radicals are plotting fresh terror attacks to disrupt the vote. \nThe General Election Commission has been criticized for hiring companies that failed to make ballot boxes or ballots and for repeatedly missing deadlines. A third of the country lacked election supplies and voter cards just days ahead of polls, according to the non-governmental People's Voter Education Network. \nThe failures prompted Justice Minister Yusril Mahendra to threaten election commissioners with jail this week and former president Abdurrahman Wahid to demand the resignation of the commission chairman. Wahid complained that 2 million of his party's supporters have not been able to register to vote. \nLogistics have also been an issue, with the election commission turning to Air Force helicopters, Navy frigates and horses to reach polling stations on isolated islands and in mountainous villages. \nAuthorities have also beefed up security in Aceh, where government troops are fighting separatists rebels, and Central Sulawesi where Muslims have been blamed for a series of deadly attacks on Christians over the past six months. \n"People here are worried about snipers," said Yahdi Basmah of the Central Sulawesi Electoral Commission. "They are scared to vote and volunteers are afraid to distribute election materials in remote villages for fear of being killed." \nDespite the setbacks, election officials said on Friday that all but 2,500 of the 585,218 polling stations will be open. Still, areas in the eastern province of Papua face delays and 48 villages in Aceh are barred from voting because they are in areas controlled by the separatist Free Aceh Movement. \nThen, there is the ballot itself. With 24 parties and hundreds of names, it is the size of a broadsheet newspaper and almost too big to fit into a polling booth. \nComplicating matters, voters for the first time will be choosing candidates along with parties. In addition, citizens will elect numerous governing bodies. \nRules could also trip up some voters, who are required to either select a candidate and party or just the party. A vote for a candidate alone -- or for a candidate and a different party -- makes the ballot invalid. \n"This is the most complicated election system I've ever seen," said the Asia Foundation's Tim Meisburger, who has monitored elections in Cambodia, East Timor, Sri Lanka, South Africa, Bosnia and Bangladesh. \n"There is quite a bit of concern that voters will not understand the process well enough and that there will be a large number of invalid ballots."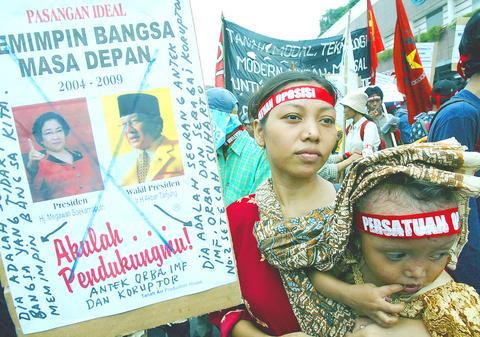 An Indonesian mother and her daughter attend a political rally in Jakarta yesterday leading up to tomorrow's Indonesian elections.
PHOTO: REUTERS
Comments will be moderated. Keep comments relevant to the article. Remarks containing abusive and obscene language, personal attacks of any kind or promotion will be removed and the user banned. Final decision will be at the discretion of the Taipei Times.