Israeli forces kill 10 Palestinians in Gaza raids
UPRISING Israeli troops scoured the Nusseirat and al-Bureij refugee camps in the Gaza Strip yesterday following an attack by militants on the Israel-Gaza border
Israeli forces raided two Gaza refugee camps yesterday, killing at least 10 Palestinians in fighting after militants mounted an elaborate attack at the Israel-Gaza border, witnesses said.
The Palestinian witnesses said the dead included three civilians and seven militants, at least five from Hamas which has killed hundreds of Israelis in suicide bombings and ambush shootings since a Palestinian uprising broke out in 2000.
Dozens of armored vehicles joined the sweeps for militants in the Nusseirat and al-Bureij camps in the central Gaza Strip. Israeli helicopters and tanks were involved in the battles with Palestinian gunmen in the narrow camp streets, witnesses said.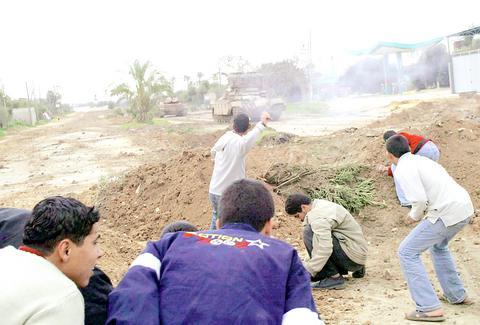 Palestinians throw stones at Israeli tanks in the Nusseirat refugee camp in the Gaza Strip yesterday. At least 10 Palestinians were killed as Israeli troops targeted the al-Bureij and Nusseirat refugee camps hours after an elaborate suicide mission was aborted.
PHOTO: AFP
Medics said at least 40 Palestinians including several children were wounded in the fighting that erupted after the Israeli forces rumbled in under the cover of darkness and began to search houses.
Israeli commentators have speculated the army would intensify operations against militant groups in Gaza before Prime Minister Ariel Sharon puts into motion an evolving plan to evacuate Jewish settlements in the area.
On Saturday, six Palestinians were killed during a failed assault by militants in fake Israeli army jeeps at the Erez crossing. Hamas, Islamic Jihad and al-Aqsa Martyrs Brigades said they carried out a joint strike and pledged more attacks.
"This is a pinpoint operation against the terrorist infrastructure in the central Gaza Strip," an Israeli military source said, referring to the Nusseirat and al-Bureij raids. "Five gunmen approached our forces, who shot them."
The source said local militants had been attacking Israeli convoys and firing mortar bombs and Qassam rockets at Jewish settlements.
Sharon has said he would remove hard-to-defend settlements in Gaza and some in the West Bank should a US-backed peace plan fail. Such unilateral steps, he said, would leave the Palestinians with less land than they seek for a state.
At Erez in the northern Gaza Strip on Saturday, militants used a new tactic -- two jeeps painted in Israeli army colors that sped toward soldiers, who shot dead two gunmen in the leading vehicle.
The second jeep exploded near a Palestinian police position, where the driver and two policemen were killed and 15 others wounded. Another militant was killed in the assault when he detonated an explosives-laden vehicle, apparently a taxi.
There were no Israeli casualties in the Erez operation.
Militant groups have ignored Palestinian Authority calls for a ceasefire with Israel. The US, whose approval Sharon is seeking for his disengagement plan, fears a unilateral Israeli pullout in Gaza could bring chaos.
Comments will be moderated. Keep comments relevant to the article. Remarks containing abusive and obscene language, personal attacks of any kind or promotion will be removed and the user banned. Final decision will be at the discretion of the Taipei Times.