Iraqis scramble to salvage constitution
MORE DIALOGUE The Governing Council decided to adjourn for two days after deep ethnic differences caused it to miss another deadline on signing a new constitution
After missing yet another deadline on signing a temporary constitution, Iraq's leaders announced Saturday that they were taking a two-day break from formal talks as deep ethnic differences resurfaced.
But they implied that informal discussions would go on outside the US-appointed Governing Council and said they still hoped to sign the new basic law tomorrow Monday.
The delay arose after Shiite Muslim leaders argued that a clause in the new basic law could give the Kurdish community a technical veto power at a later date when a referendum is to be held on Iraq's permanent constitution.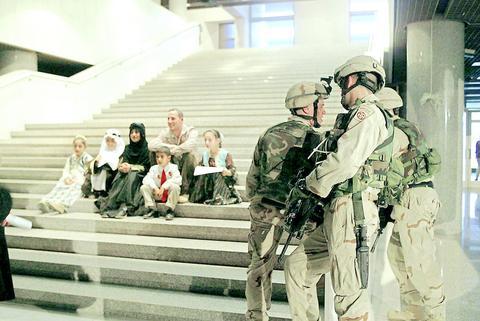 US soldiers stand guard as Iraqi children, members of a choir that was supposed to perform during the signing ceremony of Iraq's temporary constitution, sit with another US soldier while waiting at Baghdad's Convention Center on Friday. Last-minute differences between Iraq's leaders indefinitely delayed the signing of a temporary constitution.
PHOTO: AFP
The break came in a week marked by day and night political wrangling and the bloodiest attacks in Iraq since dictator Saddam Hussein was removed in April.
"Since in the new democratic Iraq there are valuable opportunities to exchange views to reach agreement in a democratic climate, the Governing Council has decided to adjourn its sessions for two days to complete the members' dialogue on that issue," the leaders said in a statement.
The basic law is aimed at seeing Iraq through a transitional period and into next year. It will make Iraq a federal state with two official languages where Islam will be a source of legislation, but not the basis for it.
According to Mahmud Othman, a Kurdish representative on the 25-member Governing Council, the price of failure could be very high.
"I think it would be very damaging," he told reporters yesterday.
"We would have to re-discuss the whole thing all over again. If there is no signing of this document it could even affect the June 30 transfer of sovereignty," he said.
With high-profile guests, a children's choir and a large media contingent waiting impatiently late Friday for a signing ceremony overseen by the US-led coalition, old religious and ethnic divisions emerged once again.
A source close to the negotiations told reporters that five or six Shiite delegates raised objections to the text brought up by religious leaders including Grand Ayatollah Ali al-Sistani, Iraq's most influential cleric.
"The problem now is that if people think they can ask for more at the last minute, it may prompt others who compromised their position before to change their mind and demand more as well, so the whole process would fall apart," the source said.
The other Governing Council members decided to give the rebel group two days to consult with their religious leaders about how best to proceed, according to the source.
"They might send a representative of Sistani to come and meet with the council," he said. "No one ever expected this to happen. It was quite extraordinary."
Iraq's Shiite Muslims make up at least 60 percent of the population and have been oppressed for decades, notably under Saddam, and the delay is yet another sign that they plan to use their new-found political weight to the full.
After missing a deadline to finalize the temporary constitution on Feb. 28, the leaders said an agreement would be signed on Wednesday, but the ceremony was pushed back to Friday out of respect for the more than 170 people who were killed this week in bombings at Shiite shrines in two cities blamed on the al-Qaeda terror movement.
"There is widespread consensus among Governing Council members on the law. But in the past few days a constructive dialogue took place regarding an important sensitive issue," the leaders said in their brief statement.
"The Council will reconvene on Monday, March 8, to finalize the issue and sign the law," it said.
Comments will be moderated. Keep comments relevant to the article. Remarks containing abusive and obscene language, personal attacks of any kind or promotion will be removed and the user banned. Final decision will be at the discretion of the Taipei Times.