Mugabe pensive as he turns 80 years old
Zimbabwe's president, Robert Mugabe, celebrated his 80th birthday on Saturday with thousands of well-wishers, a day after indicating he would retire within five years.
"I thank God for my life and I thank you for coming to honor me as your president," Mugabe said in a speech during which he chronicled his life as an academic, teacher and later as a black nationalist politician.
But amid the country's worst economic and political crisis since independence from Britain in 1980, the opposition Movement for Democratic Change (MDC) said another five years under the veteran leader's rule was too long.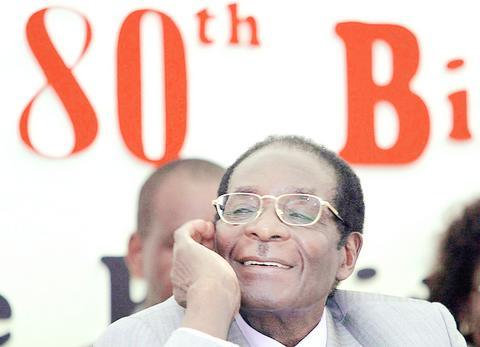 Zimbabwe President Robert Mugabe smiles at his 80th birthday party in his home town of Zvimba, some 90km west of the capital, Harare.
PHOTO: EPA
"This is a man who should have retired yesterday given the damage he has inflicted upon this country," MDC spokesman Paul Themba Nyathi said on Saturday.
"Mugabe has nothing to offer the people of Zimbabwe. To talk about staying on for another five years shows how insensitive he is to their plight."
Mugabe, one of Africa's longest serving leaders, having ruled for 24 years, remains defiant in the face of international criticism of his rule and domestic charges that he rigged 2002 elections and has driven Zimbabwe into the ground. He denies mismanaging the country's economy, which he says has been sabotaged by opponents of his policy of seizing white-owned farms for redistribution to landless blacks.
Mugabe says the MDC is a puppet of his Western foes. He walked out of talks with the opposition after it went to court to challenge his 2002 victory, and has previously said it must recognize him as president before talks can resume.
But in the interview with the Zimbabwe Broadcasting Corporation (ZBC) on Friday, Mugabe said his government was prepared to discuss resolving the country's problems.
He has previously denied speculation he would leave office early. But in the same ZBC interview he gave his strongest indication yet that he would not run for re-election after 2008 and left open the question of early retirement.
Mugabe will be 84 when his current term ends in 2008.
Analysts said indications that the veteran leader might not seek re-election were little comfort for a country saddled with soaring unemployment, acute shortages of fuel and foreign currency and one of the highest rates of inflation in the world.
"I think it shows that he is still working on a project to find the best way out for himself and for a possible successor," said Lovemore Madhuku, chairman of political pressure group, the National Constitutional Assembly.
"But he does not rule out the question of early retirement. That is the question that is still unanswered. It does not take us very far because the timeframe covers the presidential term."
Thousands converged at Mugabe's rural homestead in Zvimba, about 100km from the capital Harare, to toast him in celebration marked by a religious service and dancing.
Dressed in a dark business suit, a jovial Mugabe blew out candles and cut a birthday cake, before shaking hands with people in the crowd of political and business leaders as well as ordinary villagers.
Mugabe, who has previously dismissed media speculation of his ill-health, spoke in a hoarse voice he said had resulted from exposure to tobacco dust during a tour of a local farm.
Born in 1924 on the Kutama Mission northwest of Harare and educated by Jesuits, Mugabe was jailed for 10 years in 1964 for fighting white minority rule in what was then Rhodesia.
He became leader of ZANU in the mid-1970s after the guerrilla group launched its war against Ian Smith's government in 1972. In 1980, he became prime minister after his ZANU-PF won independence elections.
Mugabe became executive president with sweeping powers in 1987 after parliament amended the independence constitution, abolishing the post of prime minister.
Comments will be moderated. Keep comments relevant to the article. Remarks containing abusive and obscene language, personal attacks of any kind or promotion will be removed and the user banned. Final decision will be at the discretion of the Taipei Times.