Financing scandal rocks French politics
IN TATTERS The conviction of a former prime minister seen as President Jacques Chirac's potential successor, Alain Juppe, has left the governing party in disarray
In a blow to French President Jacques Chirac, a court convicted his ally and potential successor, former Prime Minister Alain Juppe, in a party financing scandal on Friday and disqualified him from office, rocking the governing right and the race for the French presidency in 2007. \nPale and close to tears, Juppe rushed out of the packed courtroom by a back door, his illustrious political career in tatters, after the three-judge panel found him guilty of overseeing the systematic use of public funds to pay workers in Chirac's party. \nThe court in the western Paris suburb of Nanterre sentenced Juppe, 58, to a suspended 18-month prison sentence for "illegally taking advantages." Its sternly worded verdict could doom any hope for Juppe, one of France's brightest political stars, of ever ascending to the presidency. \n"While vested with an elected public mandate, Alain Juppe betrayed the trust of the sovereign people," it said. "The nature of the acts committed is intolerable to society." \nUnder French election law, the conviction automatically barred the legislator and mayor of Bordeaux from voting for five years and holding office for 10. But the punishment will not take effect until a higher court has judged his appeal. \nThe higher court's decision could take a year. If it rejects the appeal, Juppe's career would be finished, robbing Chirac of the man many consider his favorite to succeed him. \n"It's inconceivable that France be deprived of a leader like Alain Juppe, recognized in France and in the world for his qualities as a statesman," said Jacques Barrot, labor minister when Juppe was Chirac's prime minister from 1995 to 1997. \nBarrot said he was "stupefied" and that the consequences of the decision, "seem, as they do to many French people, to be disproportionate to the charges." \nWhile an unpopular prime minister, Juppe is regarded as one of the brightest politicians of his generation, although his fierce intellect and aloof efficiency once drew comparisons with a computer. Chirac once praised him as "the best among us." Their relationship dates back to the 1970s, when Chirac contracted Juppe as his speechwriter. \nJuppe's conviction could herald legal problems for Chirac once the president leaves office, because in convicting Juppe, the court condemned a system of political financing in place in the early 1990s when Chirac was Paris' mayor. \nProtected by presidential immunity, Chirac is for the moment beyond the reach of investigators who hoped to question him. Investigators focused instead on his underlings -- including his loyal lieutenant Juppe. \nJuppe was "a windbreak for the real person responsible, who is Mr. Chirac," said Deputy Paris Mayor Yves Contassot, a member of the leftist Greens Party. But he welcomed the conviction, saying: "At least it is a first step, and it's an excellent thing." \nChirac has not said if he will run again in 2007. But by seemingly knocking Juppe out of contention, the ruling could clear a path for Chirac's high-profile Interior Minister Nicolas Sarkozy, who has made no secret of his presidential ambitions. \nThe conviction stems from a fake jobs scheme in the 1990s under which Paris City Hall paid the salaries of some personnel of Chirac's political party. Juppe was both the city's finance director under Chirac, who was mayor for 18 years until elected president in 1995, and was secretary-general of Chirac's party, then called the Rally for the Republic, or RPR. \nNow, Juppe heads Chirac's Union for a Popular Movement party, or UMP, which replaced the RPR. The court ruling, coming just two months before regional elections in France, is likely to cause chaos in the UMP, the governing party. \nPrime Minister Jean-Pierre Raffarin said he was surprised by the verdict and expressed hope that it would be overturned. \n"The service of France and of the French needs Alain Juppe," said Raffarin, who served in Juppe's government as a minister for commerce. Chirac, speaking from UN offices in Geneva, declined to comment. \nConservative local officials in Bordeaux, where Juppe is mayor, urged him to fight the verdict. \n"We need you and we are counting on you," they said in a message. \nShould Juppe step down as the UMP's leader and be replaced by Sarkozy, the interior minister would get a platform from which to challenge Chirac in 2007 should the president seek re-election. \nJuppe had said earlier this month that he would quit politics if barred from office. But after Friday's verdict, his lawyer said Juppe would make known his decision in the coming days. \nThe attorney, Francis Szpiner, attacked the judges' ruling as "questionable and unjust" and suggested it was politically motivated. \n"The court wanted to throw Mr. Juppe out of politics," Szpiner said. \nThe punishment was far heavier than the eight-month suspended sentence sought by the prosecution, which had also suggested that the judge omit any conviction from Juppe's record -- a loophole that would have left him free to pursue public life. \nThe prosecutor said it was up to voters, not a judge, to decide if someone is unelectable. \nJuppe was one of 27 people on trial in the case, but his role was limited to the salaries of seven people paid by City Hall between 1990 and 1995. Still, his sentence was the harshest handed down. All but six of the defendants were convicted. Patrick Stefanini, Juppe's top aide at the time, received a 12-month suspended prison sentence, which he was appealing.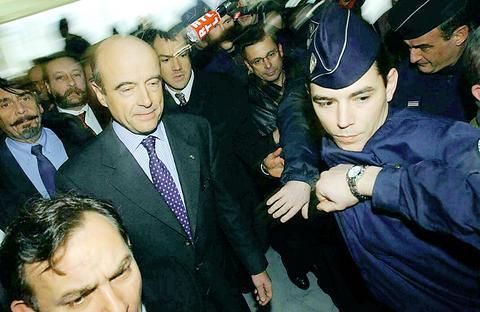 Former French Prime minister Alain Juppe, center left, is surrounded by security guards as he arrives at court in Nanterre near Paris on Friday.
PHOTO: EPA
Comments will be moderated. Keep comments relevant to the article. Remarks containing abusive and obscene language, personal attacks of any kind or promotion will be removed and the user banned. Final decision will be at the discretion of the Taipei Times.