US lawmakers strengthen ties with Libya
NEW START After years of hostility between the two countries, conciliatory gestures by Muammar Qaddafi have resulted in a visit by seven members of the US Congress
The sight of the white jet taxiing down the tarmac Sunday left no doubt that one of the world's pariah states was coming in from the cold. \nThe jet bore the words ``United States Navy,'' and from it emerged seven members of US Congress, who heaped words of praise on the recent reforms of Colonel Muammar Qaddafi, the Libyan leader who former US president Ronald Reagan once called a barbarian. \n"We're very excited about opening this new chapter in our relations," said Representative Curt Weldon, who stepped off the plane wearing a pin with the US and Libyan flags. \n"I'd say the Libyan leader has taken the first step," Weldon said, adding: "Once our governments have completed the process of formal relations, there is no limit to what we can accomplish together." \nRepresentative Solomon Ortiz put it more simply: "We want to be friends." \nThe US military aircraft was the first to touch down in Tripoli since 1969, when Qaddafi seized power. \nIn the interim, US warplanes have flown only overhead, notably in 1986 when they launched attacks that killed 37 people, including Qaddafi's adopted daughter, in retaliation for the bombing of a German disco that killed a US soldier and a Turkish woman. \nThe US imposed sanctions that year, accusing Libya of supporting terrorist groups. Ten years later, the US said it would penalize the US partners of European companies that did significant business in Libya and Iran. \n"I don't think we can change history, but we also understand we can move together toward a new beginning," Weldon said. \nOver the last year Qaddafi has made a startling turnaround. He admitted his country's involvement in the 1988 bombing of a Pan Am jetliner over Lockerbie, Scotland, and agreed to pay US$2.7 billion to the victims' families. \nHe also admitted he had tried to develop weapons of mass destruction -- including a nuclear bomb -- and invited UN, US and British inspectors to inspect his weapons programs and dismantle them. \n"I think clearly that Qaddafi is for real in that he has made this switch," Representative Darrell Issa said "He has been a person of abrupt changes throughout his career." \nSome have suggested that Libya didn't want to face the kind of war that drove former Iraqi president Saddam Hussein from power. But diplomats say Libya appears to have made a firm decision to remake itself in 2002, before the US launched its war on Iraq. \nQaddafi's decisions followed months of secret negotiations with the US and Britain. \nAfter Libya admitted in September its involvement in the Lockerbie bombing, the UN Security Council voted to lift its sanctions, but the US is waiting for Qaddafi to follow through on the rest of his pledges before doing the same. \nThe lawmakers indicated that barring any changes of heart, diplomatic ties could soon be restored. \n"We are here to let the leaders of Libya know that if they continue the steps they are taking, that's a very real likelihood," Weldon said. \nLibya is also counting on a restoration of economic ties. The sanctions have cost Libya more than US$30 billion in lost business. Investment is especially needed for an oil industry that once made the North African country of about 5 million people a regional power. \nThe congressional delegation met Sunday with Libya's prime minister, foreign minister and a delegation from the People's Congress -- the equivalent of a parliament. \nThe Congress members also walked through a section of Tripoli and visited a farm owned by Qaddafi's son, Seif el-Islam, who is seen as a possible successor to his father. The lawmakers said the farm had tigers, a cougar and falcons. \nBefore their scheduled departure late Monday, the members hoped to meet Qaddafi and visit sites related to Libya's weapons of mass destruction, which US and British experts are preparing to dismantle with Qaddafi's blessing. \nAt the airport, the delegation was received by a senior local official, Abdul-Latif al-Dali, secretary of the Tripoli People's Congress, who chatted with Weldon about the overcast weather as they made their way to the airport lounge. \nAl-Dali sat stiffly as the Americans spoke, but told the delegation, "We are very happy that the representatives of the American people have come." \nIn Tripoli's central market, many shoppers and shopkeepers echoed his words. \n"They're very welcome here," said Abdul Hakim Bizanti, 45. "Libya's opening up. It's good for us, for everybody." \nHe asked a reporter, "Are you one of the congressmen?" \nThe delegation's arrival came on the heels of that of another US lawmaker. Representative Tom Lantos landed Saturday in the first visit by an elected US official in 38 years. \nAsked if he felt upstaged by the separate Lantos visit, Weldon said, ``I don't know why he did it. I would question why you spend US$30,000 to fly across, when you could have flown in on a military plane that had 100 empty seats. \n"He's got to answer to the taxpayers on why he spent that money," he said.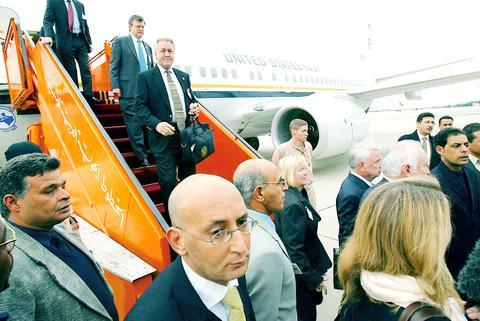 Libyan officials watch as an American Congressional delegation arrives in Tripoli on Sunday. The delegation flew in on the first US military plane to land in Libya since Muammar Qaddafi took power in 1969.
PHOTO: AP
Comments will be moderated. Keep comments relevant to the article. Remarks containing abusive and obscene language, personal attacks of any kind or promotion will be removed and the user banned. Final decision will be at the discretion of the Taipei Times.