Search for Bam quake victims set to be scaled down
NO HOPE Rescuers said they were only recovering dead bodies, while disease and looters are looming as threats to recovery efforts and the welfare of survivors
Rescuers said that yesterday probably offered the last hope of finding more survivors from Iran's devastating earthquake, as officials warned the death toll could reach 30,000.
Disease is now a threat, with the stench of death filling the flattened, ancient Silk Road city of Bam as the world united in relief efforts, and US airmen worked alongside soldiers from the Islamic republic that President George W. Bush once branded an "axis of evil" state.
As searching continued into a fourth day, rescuers said they were no longer finding survivors -- only the mangled remains of people killed when the world's most lethal earthquake in at least 10 years leveled much of Bam.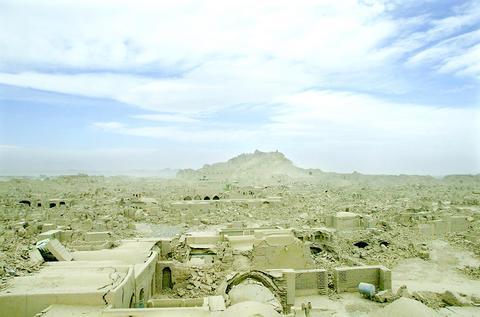 A view of the southeastern Iranian city of Bam on Sunday shows the site of the severely damaged ancient citadel.
PHOTO: AFP
"[Rescue operations] will continue at least for one more day [until midnight yesterday] when an assessment will be made to continue or not," said Alain Pasche, a representative of the UN rescue coordination team.
Round-the-clock relief efforts were complicated by piles of bodies in the streets, overflowing cemeteries, bitterly cold nights, rain, aftershocks, confusion, some looting and the crash of an army helicopter that left two people on board missing.
"I believe the [death] toll will reach 30,000," said a government official in Kerman Province, where the quake struck before dawn on Friday while most people were still sleeping, destroying about 70 percent of Bam's mostly mud-brick buildings.
Interior Minister Abdolvahed Mousavi-Lari said some 20,000 bodies had been recovered, but the death toll was likely to be much higher.
Warning that disease was a threat, he said: "We have instructed various bodies to immediately start cleaning up. If we don't bring hygiene back to the city we will have major problems."
Some 30,000 people were injured in the quake, which measured 6.3 on the Richter scale.
Aid workers estimated more than 100,000 people might have been left homeless in the Bam area, some 1,000km southeast of the capital Tehran.
Aid poured in from around the world to help deal with a disaster that President Mohammad Khatami said his country could not cope with on its own.
Some young men armed with pistols and Kalashnikov assault rifles drove into Bam in vans and stole Red Crescent tents. Others on motorbikes chased aid trucks, picking up blankets thrown out by soldiers.
As cemeteries battled to cope, mullahs in shirt-sleeves rather than their usual robes and wearing face masks against the dust and smell tore sheeting to shroud corpses.
There was no time to wash the bodies according to Islamic rituals.
Bodies were brought in blankets, sprayed with disinfectant to guard against disease and tipped into trenches hollowed out by mechanical diggers.
Although some survivors have been accommodated in tents, others spent a third night in the open in temperatures of 7oC, burning cardboard and any other material they could find to fend off the cold.
Fatima Momen Abadi, 30, wandered among those huddling round fires to keep warm. She was unable to sleep after losing her sister and three daughters in the quake.
"I have no hope," she said, her voice cracking with emotion.
Bam's small airport was packed with a dozen or so military and civilian cargo planes delivering aid in the early hours, barely able to find space on the tarmac that handled no more than a handful of planes each week before Friday's quake.
The airport's arrival hall has been converted into a temporary hospital ward.
A US Air Force C-130 Hercules landed in Kerman, near Bam, with a first delivery of US aid. The US military said it would ship in about 70 tonnes of supplies originally earmarked for reconstruction in Iraq.
US officials said that US airmen and Iranian soldiers worked together to unload the plane, the first US flight into Iran since the Iranian hostage crisis ended in 1981.
Washington severed ties with Iran after the US embassy was stormed in 1979 and 52 Americans were held hostage for 444 days.
Iran's call to the world for help from anywhere but Israel contrasted with its rejection of assistance in 1990 when a quake killed 36,000 people.
Until Friday, the biggest earthquake death toll in the past decade was in India, where 19,700 people died in January, 2001.
Bam, a tourist attraction with an ancient citadel and other centuries-old buildings, has a history going back to the old Silk Road days when it was a stopover for merchants and travelers between China and Europe.
A large part of the citadel was destroyed by the quake.
Comments will be moderated. Keep comments relevant to the article. Remarks containing abusive and obscene language, personal attacks of any kind or promotion will be removed and the user banned. Final decision will be at the discretion of the Taipei Times.