Iraqi children die in rebel attacks
RESISTANCE Two US soldiers were also killed in the latest attacks in Karbala, which seem to be aimed at undermining the resolve of US allies
Roadside bombs killed two Iraqi children and two US soldiers on Sunday, as the toll from a coordinated guerrilla onslaught on Iraq's holy Shiite city of Karbala rose to 19 dead.
Even as hundreds of weeping and wailing mourners buried victims of the rebel attack -- the biggest since the Dec. 13 capture of Saddam Hussein -- six of those wounded succumbed to their injuries.
In central Baghdad, a bomb planted beside a road killed two Iraqi children and an American soldier and wounded 14 people on Sunday morning, said US Army Sergeant Patrick Compton of the Army's 1st Armored Division. The wounded include five American soldiers, their Iraqi interpreter and eight members of the Iraqi civil defense corps.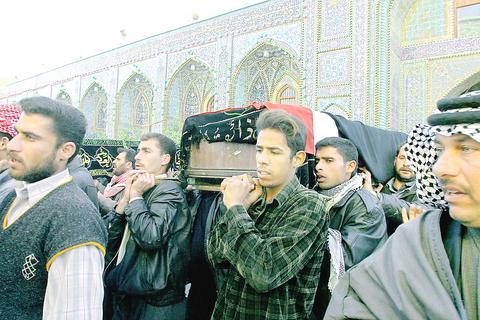 Iraqis carry the coffin of a policeman who had been killed in a car bomb attack on Karbala's city hall at the shrine of Imam Hussein on Sunday. Insurgents have plunged the city into chaos with a series of car bomb, mortar and machine-gun attacks.
PHOTO: AFP
"It was a bad one," Compton said. "It's a real densely populated area of town."
Attackers detonated another roadside bomb later Sunday as a US convoy was traveling on a road near Fallujah, west of Baghdad, killing another American soldier and wounding three, the US military said.
The latest deaths bring the number of American combat deaths since the invasion in March to 325.
Also Sunday, officials said they arrested five Iraqi suspects in the Karbala attacks.
"We are holding five men, and we are still investigating them," said Lieutenant Rafal Smilkowski of the Polish regiment that commands a multinational force controlling south-central Iraq.
Bulgaria declared today an official day of mourning for six Bulgarian and two Thai soldiers killed in the attacks, which destroyed the Bulgarians' headquarters in Iraq and appeared designed to undermine the resolve of US allies soldiering in Iraq. Instead, Thailand announced yesterday it will send an additional 30 troops to provide security for the country's noncombat troops. Prime Minister Thaksin Shinawatra said Thailand would fulfill its one-year commitment to the US, a longtime ally, and would "not run away from a friend."
Overnight, US forces dug up about 580 rockets buried under dirt near Abayachi, a village northwest of Baghdad, said Major Josslyn Aberle, a spokeswoman for the Army's 4th Infantry Division.
The stash of 57mm rockets was unusually large, indicating it might have been intended for sale, she said.
"We ruined some arms dealer's day," Aberle said, adding that the military were tipped off by an Iraqi informant.
An official of the Kurdistan Democratic Party escaped an assassination attempt on Sunday, but three of his bodyguards were killed, police reported. Gunmen wounded Jwamair Atyia Kakawi, the party's deputy director for security, but not seriously, in an attack in the northern city of Irbil, police director Niriman Abdul-Hamid said.
Irbil was hit by a suicide bomber last week who killed four civilians and himself when an explosives-packed car blew up in front of the Kurdish Interior Ministry. Irbil is the seat of government for Iraq's Kurds, who are ethnically distinct from the majority Arabs and, under US-led aerial protection, have ruled a Switzerland-sized area of northern Iraq since the end of the Gulf War more than a decade ago.
Thousands of Iraqis from all over the country gathered Sunday in the southern holy city of Najaf to mark the fifth anniversary of the assassination of Shiite cleric Mohammed Sadiq al-Sadr.
A huge procession was led by a man wielding a sword and followed by young men who flagellated themselves with chains in an attempt to feel the pain of the slain leader, whose killing was blamed on Saddam.
Attackers blew up four liquor stores in the northern city of Kirkuk overnight. Islamic militants have carried out such attacks in the past. Islam forbids consumption of alcohol.
In the Karbala attacks, four suicide car bombs, mortar shells and rocket-propelled grenades blasted two military bases of the US-led coalition force and the governor's office.
Six coalition soldiers, six Iraqi police officers and a civilian died Saturday. Four of the soldiers were Bulgarian and two were Thai. On Sunday, a Bulgarian lieutenant and five Iraqis wounded in the attacks died in the hospital, the Polish news agency PAP reported.
Comments will be moderated. Keep comments relevant to the article. Remarks containing abusive and obscene language, personal attacks of any kind or promotion will be removed and the user banned. Final decision will be at the discretion of the Taipei Times.