Nuclear watchdog set to inspect Libya
AN INSPECTOR CALLS The International Atomic Energy Agency was due to make its first foray into the country since Muammar Qaddafi gave it the green light earlier this month
UN nuclear inspectors were set to visit sites related to Libya's atomic weapons program yesterday as the agency gears up for full-scale inspections in the North African state.
A team of inspectors from the UN International Atomic Energy Agency (IAEA), led by IAEA chief Mohamed ElBaradei, arrived in Tripoli on Saturday just over a week after Libya acknowledged developing banned weapons -- including atomic arms.
One diplomat close to the delegation said he did not know what sites the Libyans would show them yesterday, but assumed they would be related to whatever weapons-related activities they had been conducting.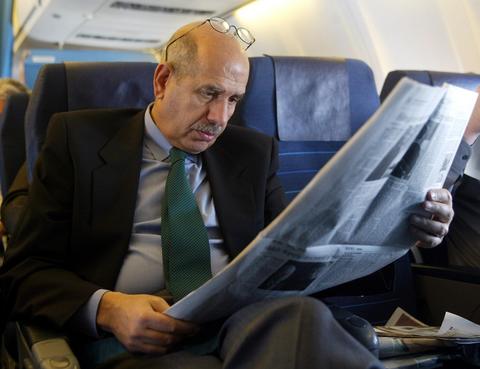 International Atomic Energy director-general Mohamed ElBaradei reads a newspaper in a plane en route to Libya on Saturday
PHOTO: REUTERS
The Libyans said they had been working on a pilot scale centrifuge uranium-enrichment program but had not enriched any uranium. Enrichment is a process of purifying uranium for use as nuclear fuel or in weapons.
Libya's Foreign Minister Mohamed Abderrhmane Chalgam told a news conference on Saturday that Tripoli had never crossed the line from laboratory experiments into actual weaponisation.
ElBaradei is expected to stay in Tripoli until today. He is scheduled to meet with the deputy prime minister in charge of the nuclear program, the prime minister and, possibly, Libya's leader Muammar Qaddafi.
Some members of IAEA team will remain in Tripoli until Thursday and are expected to be shown "everything they need to see," a diplomat close to the delegation said.
Qaddafi's oil-rich state, long on the US list of sponsors of terrorism, said earlier this month it was abandoning plans to build an atomic bomb and other banned weapons.
Although the US and Britain had suggested Tripoli was close to developing a weapon, ElBaradei said in an interview en route to Libya that he did not think the North African state had been close to building a bomb.
"From the look of it, they were not close to a weapon, but we need to go and see it (their nuclear program) and discuss the details with them," he said.
Libya said it would demonstrate its transparency by signing a protocol allowing short-notice inspections of its atomic sites that are much more intrusive than what is permitted under the nuclear Non-Proliferation Treaty (NPT), which Tripoli has signed.
"Libya will cooperate and deal with the agency (the IAEA) with complete transparency ... and Libya will sign the Additional Protocol," the foreign minister said.
"This is a clear message to everybody, especially the Israelis, they must start dismantling their weapons of mass destruction," he added.
ElBaradei said it was unclear who provided Libya with its nuclear technology. Similar to Iran, Libya says it got its enrichment centrifuges from "middlemen" on the black market.
"As we understand, it was through the black market, through the middle people, so the countries of origin [of the technology] were not necessarily aware," he said.
In Iran's case, a combination of Pakistani and other middlemen, aided by a handful of Pakistani scientists appear to have provided Iran with the crucial know-how and hardware to build its enrichment program, diplomats have told Reuters.
One diplomat close to the IAEA said the investigation into the origin of Libya's enrichment program might provide some more answers to the question of where Iran got its technology.
Comments will be moderated. Keep comments relevant to the article. Remarks containing abusive and obscene language, personal attacks of any kind or promotion will be removed and the user banned. Final decision will be at the discretion of the Taipei Times.