Stench of death hangs over Bam
AXIS OF HELP The US flew in its first shipment of aid, as American and Iranian officials made rare contact despite some two decades of frosty relations
Iran's earthquake-devastated city of Bam was filled with the stench of death yesterday as top foreign rescuers warned hopes were fading for any more survivors from a disaster that killed at least 20,000 people.
US President George W. Bush's administration cast aside its branding of Iran as an "axis of evil" state to begin sending in military plane-loads of aid and held rare talks with a government it has shunned diplomatically for two decades.
From China to South Africa, Britain to Australia, nations rushed to respond to Iran's appeals and sent rescue workers, doctors, tents and cash to help deal with what appeared to be the world's most lethal earthquake in at least 10 years.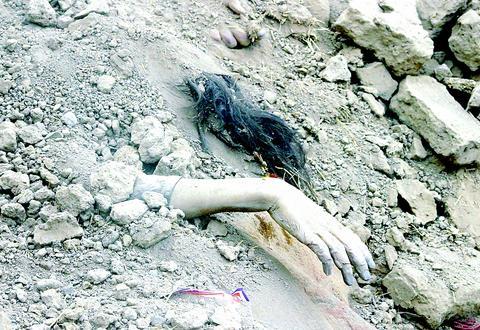 The hand of a victim covered by rubble in Bam, southeast Iran, on Saturday after a powerful earthquake hit the region Friday. The quake left at least 20,000 dead and 30,000 injured with more casualties feared. More than three-quarters of Bam was flattened by the quake which was rated 6.7 on the Richter scale by the US Geological Survey.
PHOTO: EPA
Cemeteries in Bam were overflowing with fully clothed corpses and hundreds of bodies had been tipped into trenches hollowed out by mechanical diggers, witnesses said.
The pre-dawn quake on Friday also injured about 30,000 people when it flattened about 70 percent of the mostly mud-brick buildings in the ancient Silk Road city.
Bam airport was converted into a sprawling, makeshift hospital and rubble-strewn pavements were lined with injured, some on intravenous drips.
A man on Saturday carries two brothers who were killed when their home collapsed during Friday's earthquake in Bam.
PHOTO: REUTERS
Witnesses saw some looting when vans of young men armed with pistols and Kalashnikovs drove into Bam and stole Red Crescent tents, as residents said relief efforts were chaotic.
"There is no organization. Whoever is stronger takes the aid," Mehdi Dehghani said.
President Mohammad Khatami said Iran could not cope on its own, as authorities battled to accommodate thousands of homeless people on a second bitterly cold night.
"Everyone is doing their best to help, but the disaster is so huge that I believe no matter how much is done we cannot meet the people's expectations," Khatami said on state television.
The Interior Ministry confirmed on Saturday the death toll stood at 20,000, but the chaos and scale of the disaster made it difficult for officials to produce exact casualty figures.
Interior Minister Abdolvahed Mousavi-Lari said he could not make any forecasts about the final toll.
But he said: "In a city of something under 100,000 people, 70 percent of buildings collapsed. With this scale of damage, the number of dead and injured will be very high."
Officials said many survivors should have been in tents by late on Saturday, but witnesses said a number spent the night in the open among palm groves around Bam, burning cardboard and any other material they could find to fend off the cold.
The quake measured 6.3 on the Richter scale and struck early on Friday when many people were at home asleep in Bam, some 1,000km southeast of the capital Tehran.
Ari Vakkilainnen, leading a Finnish rescue team, said only 30 people were dug out alive overnight.
"I do not think that many people are alive because of the structure of the buildings," he said. "Someone could still be alive after 72 hours, but if they are losing blood they need water."
Comments will be moderated. Keep comments relevant to the article. Remarks containing abusive and obscene language, personal attacks of any kind or promotion will be removed and the user banned. Final decision will be at the discretion of the Taipei Times.