China's SARS patient recovering
MYSTERY INFECTION Guangdong health officials were trying to work out how the television producer, who had not left Guangzhou or eaten wild meat, got SARS
China's first suspected SARS patient since July, when the UN health organization declared the world free of the deadly flu-like virus, is in stable condition under quarantine, the official Xinhua news agency said yesterday.
Those who have had close contact with the victim, a 32-year-old freelance television producer, were also under quarantine but do not have a fever and have not shown other SARS symptoms, Xinhua quoted doctors as saying.
Xinhua said the patient was first diagnosed on Dec. 16 with pneumonia of the right lower lung and quarantined for treatment. He was transferred to the quarantine ward of Guangzhou No. 8 People's Hospital.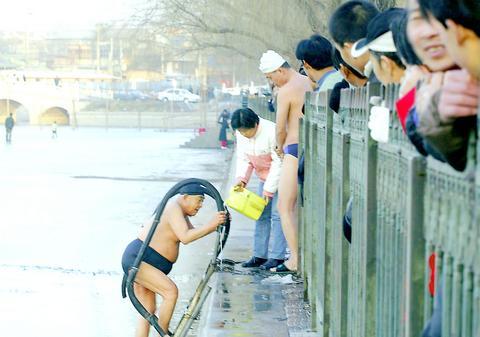 A group of onlookers watch as an elderly man makes his way up from a half frozen lake in Beijing yesterday after a morning swim. An increasing number of people, especially elderly Chinese, are taking to winter swimming, which is claimed to boost the immune system, in the wake of concern over a resurgence of SARS.
PHOTO: AFP
Doctors at the No 8 People's Hospital in Guangdong were still trying to determine how the patient was infected.
"The case does not seem to be infectious and the patient is recovering very quickly," Xinhua quoted Zhong Nanshan, one of China's top respiratory experts, as saying.
"His condition is stable," the agency quoted an unnamed doctor as saying. His temperature has been normal over the last three days, the doctor added.
The patient told doctors he had not left provincial capital Guangzhou or eaten wild animal meat for one month before hospitalization, said Wang Zhiqiong, deputy head of the Guangdong provincial health department.
If confirmed, the Guangdong case would be the first one globally not linked to laboratory accidents since the WHO declared the outbreak over in July.
Many scientists believe SARS was likely to have spread from farms in southern China, possibly jumping from animals such as civet cats and rats to humans.
Global health officials have been watching for a resurgence of SARS since the start of the northern winter. Two recent cases in Singapore and Taiwan were linked to accidents in medical research laboratories.
China's Health Ministry warned health workers nationwide of punishment if they failed to report SARS cases, aiming to avoid a repeat of the SARS cover-up this year that sparked widespread international criticism.
After emerging in Guangdong last year, SARS was spread by travellers and went on to infect 8,000 people in nearly 30 countries, killing about 800 and ravaging many Asian economies.
Neighboring Hong Kong, a former British colony and hub for global travellers, and Taiwan have stepped up checks on visitors from southern China to avert another outbreak of the deadly virus ahead of the region's biggest holiday.
News of the possible new SARS case comes just weeks before the Lunar New Year holiday when there is a mass movement of people within China and across East and Southeast Asia.
Comments will be moderated. Keep comments relevant to the article. Remarks containing abusive and obscene language, personal attacks of any kind or promotion will be removed and the user banned. Final decision will be at the discretion of the Taipei Times.