Philippines declares state of calamity
TRAGEDY The Philippine president flew to the island of Leyte in the wake of deadly mudslides; while the search continued for survivors of a weekend ferry disaster
The Philippine president flew yesterday to the devastated island of Leyte, where authorities declared a calamity following weekend floods and mudslides that killed at least 160 people on the country's southern and central islands. \nIn another pre-Christmas disaster, the Philippine navy and coast guard said dozens of people remained missing from a ferry that sank with 75 people aboard in rough seas southwest of Manila on Sunday. At least 20 people have been rescued. \nLeyte and the southern island of Mindanao, both near the Pacific Ocean, were worst hit by the floods and mudslides unleashed Friday and Saturday after a week of pounding rains. Authorities said 133 of the victims were on Leyte, while 27 were on Mindanao. \nPresident Gloria Macapagal Arroyo flew to Leyte aboard her jet She was accompanied on the visit by US Ambassador Francis Ricciardone, US Agency for International Development director Michael Yates and cabinet officials. \nShe met with local officials and comforted relatives of the dead in San Francisco town, the worst hit in Southern Leyte, where more than 100 people remain missing. \n"We are undertaking measures to mitigate the immediate effects of the calamity and we are looking at the need for long-term prevention," she assured the victims. \n"The celebration of Christmas takes a back seat for many rescue and humanitarian workers, who will continue day and night to perform their duties," she added. \nSouthern Leyte Governor Rosette Lerias declared a state of calamity in her province late Monday in a bid to speed up delivery of emergency supplies and secure recovery funds. \nCaptain Nonilon Lawas of the army's 802nd Infantry Brigade, which was helping in rescue and recovery efforts, said 103 people died in San Francisco, including 26 previously listed as missing and presumed dead. Other badly hit areas on Leyte included Liloan, where 22 people died, the provincial capital of Maasin, with three dead, and San Ricardo with five dead and 20 missing. \nSporadic rains and strong waves have hampered recovery efforts. \nRescue workers reported finding entire families buried alive in their village homes. The bodies of a family of five -- mother, father and children ages 5, 12 and 14 -- were broadcast on television, lying in the mud and rain of their collapsed house in Liloan on Leyte. \nAuthorities have blamed illegal logging for exacerbating the landslides. Arroyo said earlier this week that most of the affected areas were near over-logged hills and mountains. \nArroyo has asked for US help with the rescue efforts. \nRicciardone said the US was sending a C-130 transport aircraft with emergency supplies, including meals ready-to-eat, medical supplies and clothing, later yesterday. The aircraft will also carry Philippine Red Cross supplies, including tents and plastic sheets, from Manila to Leyte, he said. \nAlso yesterday, Japan sent a shipment of humanitarian goods and equipment worth about US$145,500, the embassy in Manila said.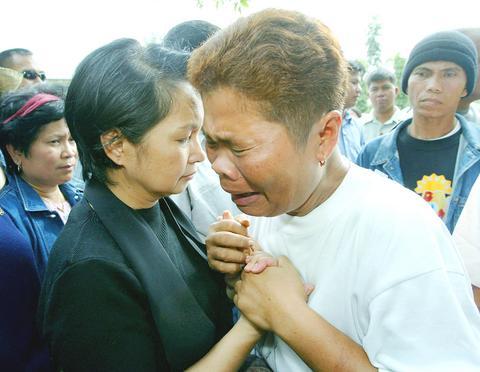 Philippine President Gloria Macapagal Arroyo, left, comforts a survivor of last weekend's deadly landslides in San Francisco, central Philippines, yesterday.
PHOTO: REUTERS
Comments will be moderated. Keep comments relevant to the article. Remarks containing abusive and obscene language, personal attacks of any kind or promotion will be removed and the user banned. Final decision will be at the discretion of the Taipei Times.