Palestinians draw line in the sand
From the soggy streets of Gaza City to Palestinian President Yasser Arafat's fog-enshrouded compound, Palestinians said on Friday that they would oppose any unilateral attempt by Israel to establish a border between the Middle East antagonists.
Israeli Prime Minister, Ariel Sharon, said in a major speech on Thursday that if the stalled peace process, known as the road map, did not yield progress in the coming months, he would pursue go-it-alone measures such as setting up a "security line" with the Palestinians.
"We are not going to approve anything that does not come from negotiations between us and them," said Nabil Aburdeineh, a spokesman for Arafat.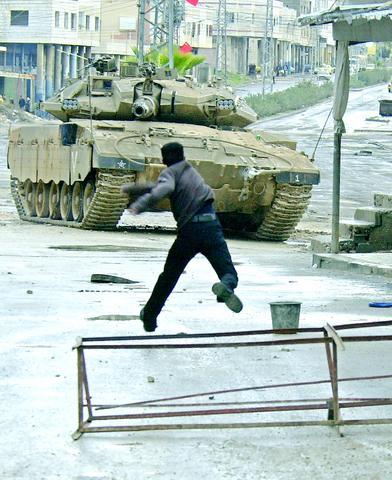 A boy hurls a stone toward an Israeli tank on Friday during an Israeli incursion at the Balata refugee camp in the West Bank town of Nablus.
PHOTO: AP
Referring to Sharon's speech, Aburdeineh said: "This is not a plan. It's an attempt to escape from the road map."
Palestinians argue the only way to resolve the decades-old conflict is through a mutual agreement that leads to a Palestinian state which includes the West Bank and the Gaza Strip, along with a capital in east Jerusalem. The moves suggested by Sharon, however, would leave them with much less than that for any future state.
In the pouring rain in Gaza City on Friday, thousands of supporters of the Islamic faction Hamas marched to mark the 16th anniversary of the founding of the group, which has carried out the largest number of suicide bombings against Israel.
Hamas has always opposed peace negotiations with Israel, and young marchers carried black coffins representing previous peace plans that have failed.
Abdel Aziz Rantisi, the group's outspoken figure, said the speech "represented new aggression against the Palestinian people."
In his address to a conference on Israel's security, Sharon said that in the short term he intended to ease Palestinian travel restrictions and tear down small, informal outposts erected by Jewish settlers.
If he abandons the current peace effort and decides to take unilateral action in the coming months, it would include a military pullback and the dismantling of some formal Israeli settlements, Sharon said.
He also said he was willing to meet Palestinian Prime Minister Ahmed Qureia in an effort to restart a top-level dialogue that has effectively been frozen since a surge of violence in August.
The Palestinians say they are ready for a resumption of talks, but they also say that they were concerned that such talks may be little more than photo opportunities.
Comments will be moderated. Keep comments relevant to the article. Remarks containing abusive and obscene language, personal attacks of any kind or promotion will be removed and the user banned. Final decision will be at the discretion of the Taipei Times.