US forces making a new start in the Sunni triangle
REBUILDING IRAQ American troops are using a new mixture of military might, generosity and democracy to charm loyalists to cooperate rather than shoot at them
In town after town, village after village throughout Iraq, American forces announce their arrival in much the same way: they appoint mayors, set up town councils, refurbish schools and hand out toys.
One of the areas where it didn't work is in the so-called Sunni triangle around Baghdad, where loyalists to former Iraqi president Saddam Hussein have been most active.
Now US veterans of such hot-spots as Fallujah are giving it another try in a string of villages in the vast, desolate desert some 360km southwest of Baghdad.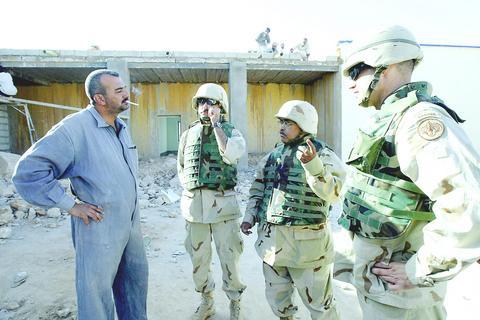 Lieutenant Colonel Christopher Hickey, right, speaks with contractor Mohammed Shabat, left, during a visit to the school they are rebuilding at Kasra in southwest Iraq on Wednesday.
PHOTO: AP
It's too early to draw firm conclusions, but early evidence suggests that here at least the mixture of military might, generosity and democracy may still work.
"In Fallujah, no matter how much we helped, we were not liked," lamented Lieutenant Colonel Christopher Hickey, commander of the 2nd Squadron, 3rd Armored Cavalry Regiment, which arrived in Iraq in April.
"My first goal here is to establish trust and confidence. I want to create people who will cooperate with us, not shoot at us," he said.
Hickey, a 39-year-old from Boston, looks determined to make things work. His mission is twofold: to help the desert villages and keep out hostile infiltrators from neighboring Saudi Arabia.
"We know that there are crossings," said Captain David Palazzo, 29, from Charlotte, North Carolina, who commands the squadron's Eagle Troop. "We are here to find out whether it is terrorists or smugglers," he said.
Hickey led a team to the region late last month to learn its most pressing needs. Accompanying him was Thamer Nayef al-Hathal, 29, a Baghdad University business graduate and US-appointed mayor of Nukhayb and surrounding villages.
"I gave the mayor US$50,000 and told him to spend it wisely," Hickey said at a former Iraqi air force base where Eagle Troop is headquartered. "He has spent them well and today I'll give him US$30,000 more."
A chart in his office displays photographs of the area's three top tribal sheiks; Mayor al-Hathal, son of one of the sheiks; and town councilors.
"We don't want to overwhelm the town," Hickey said. "Here, we have a fresh start."
It's easy to see where the US$50,000 went. Last week, workers were repairing a school in the nearby village of Kasra. There were new carpets, desks and coffee tables at the offices of the mayor and the police chief. The village school has clean water, new supplies, glass windows and its first coat of fresh paint in years.
Headmaster Ali Rashid said attendance has gone from 60 pupils to 135 since the school got its makeover.
A government with money to spend is a novelty in Iraq after nearly 13 years of wars and sanctions. Even the little money spent by Saddam's government on infrastructure didn't reach the poor, isolated villages of Nukhayb, Kasra and Habbariyah. So it's no surprise that the US military represented a ray of hope to the area's 3,000 people.
Outside the mayor's office Wednesday, 50 men in traditional Arab robes anxiously waited to be interviewed by Hickey and his team for a 400-man force to police 350km of Saudi border. Monthly salaries of up to US$180 would go far in this poor sheepherding community.
The men will be trained by the US military and then in neighboring Jordan. The first battalion, armed with weapons, maps and vehicles, will be deployed in mid-January.
"We want the best for Iraq and this particular group of Americans is good to deal with," said Mayor al-Hathal.
On their way to Nukhayb in five Humvees, Dickey and his dozen men stopped at Kasra to check repairs on the school. Waiting for him was contractor Mohammed Shabat.
"Tell him that he is supposed to get his money today," Hickey said to his interpreter.
Then he added another message for the contractor: "You'll make a lot of kids happy."
Shabat's reply was curt: "Inshallah [God willing], in addition to my own financial gain."
The two later chatted about their families. Shabat told Hickey he had three children, the youngest a three-year-old girl.
"I have a three-year-old girl, too," said Hickey. "She is very bossy."
"You are probably spoiling her," Shabat told him with a smile.
Hickey later remarked on how unusually friendly the conversation was. Shabat, talking to a reporter afterward, was more circumspect.
"I don't collaborate with the Americans. I just deal with them and that's different," he said. "I deal with them for my own interest and that of my country. But when they storm our homes to look for fighters and see our women in their bed gowns, we all feel humiliated. They don't understand this."
Hickey is beginning to understand and accept that in a strict Islamic society, women never meet with men except relatives.
"I have not spoken to a single Iraqi woman since I arrived in Iraq six months ago and never got to say `Thank you' to the wives of the sheiks who cook fabulous food for us," he said.
Comments will be moderated. Keep comments relevant to the article. Remarks containing abusive and obscene language, personal attacks of any kind or promotion will be removed and the user banned. Final decision will be at the discretion of the Taipei Times.