Hu arrives in Australia ready to talk economics
Chinese President Hu Jintao (胡錦濤) arrived in Australia yesterday amid tight security aimed at preventing protesters overshadowing the push to cement the burgeoning trade relationship between Canberra and Beijing.
Hu touched down at Sydney Airport, where he will meet business and government leaders before heading to Canberra and becoming the first Asian leader to address a joint sitting of federal parliament.
The arrival came just hours before US President George W Bush was due to land in Canberra, beginning unprecedented simultaneous visits by the leaders of two countries that Canberra believes could underpin Australia's economic prosperity well into the future.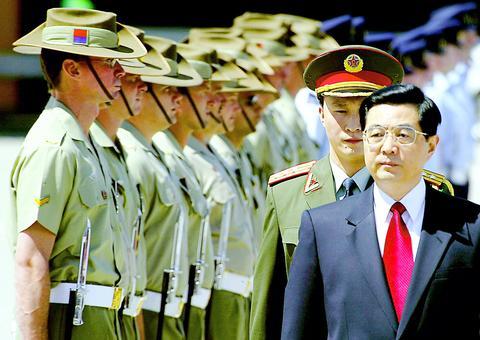 Chinese President Hu Jintao, right, inspects an honor guard with a security officer following behind upon his arrival at Sydney Airport yesterday.
PHOTO: AFP
Treasurer Peter Costello said he hoped Hu's four-day visit would result in the signing of a Trade and Economic Framework agreement, generally regarded as a precursor to a free trade agreement with China.
Costello said that the visit was a "wonderful opportunity" for two naturally complementary economies to come closer -- with China as the global economy's emerging superpower and Australia as a resource-rich continent able to provide raw materials for China's expansion.
"China is going to be the growth economy of the world and it's in our region," he told reporters. "More importantly, we have a lot of what China wants to import, particularly in the energy and minerals area.
"Now, developing that relationship with China will be an enormous benefit to Australia -- as China comes out of the regulated command economy and becomes more and more a liberalized economy, it's going to grow better."
Australian authorities were taking no chances that Tibetan independence protesters and members of the banned Falun Gong religious sect could disrupt Hu's arrival.
He was greeted on the tarmac at Sydney airport behind a tight security screen, with the public locked out but about 60 hand-picked supporters from Australia's Chinese community waving flags and holding banners.
Prime Minister John Howard and Governor-General Michael Jeffery laid on the red-carpet treatment, including a 21-gun salute and military honor guard.
Hu said China and Australia had a long relationship marked by expanding cooperation and his visit aimed to "enhance friendship, expand the common ground and facilitate common prosperity."
"I look forward to an in-depth exchange of views with Australian leaders on the ways to further promote China-Australian relations of all-round cooperation and on regional and international issues of common interest," he said.
Comments will be moderated. Keep comments relevant to the article. Remarks containing abusive and obscene language, personal attacks of any kind or promotion will be removed and the user banned. Final decision will be at the discretion of the Taipei Times.