Australia asks the public: want to be a commando?
Australia launched a public recruitment drive for more than 300 elite commando and special forces troops yesterday to further bolster its defense and help meet commitments to the US-led war on terror.
The break with tradition of only recruiting elite soldiers from within defense ranks was necessary to fill 334 extra commando places announced by the government earlier in the year, Special Operations Commander Major-General Duncan Lewis said.
Australia has about 2,000 special forces troops, which were deployed in the early stages of the US-led offensives in Afghanistan and Iraq, winning high praise from US commanders for their ability to operate undetected behind enemy lines.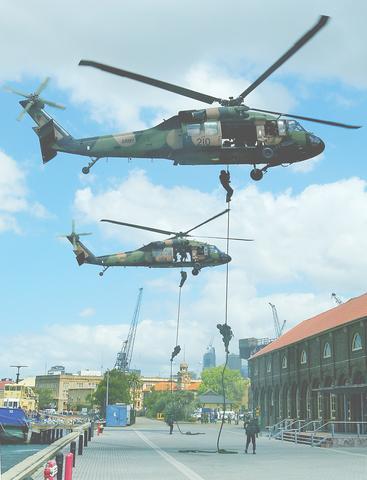 Anti-terror troops abseil from two Blackhawk helicopters in Sydney yesterday.
PHOTO: REUTERS
"We are after young men, fit, bright ... who can commit to a cause, because the cause we are asking them to commit to is a serious one. It is the security of this country," Lewis told reporters at Sydney's Garden Island naval base.
To launch the recruitment drive, commandos, usually reluctant to be photographed or filmed, parachuted into Sydney Harbor, rappelled from Black Hawk helicopters and clambered ashore onto a rocky point, all before television news cameras.
Lewis said recruits, aged 19 to 30, would undergo accelerated training, with those successful taking around 18 months to reach the elite level where they may see military action.
Those recruited from the public will undergo seven weeks basic army training, 12 weeks infantry training and eight weeks accelerated training merely to reach the stage where they will be tested to see if they are ready for Special Forces training.
The Special Forces Barrier test involves a four-hour march with a 28kg pack and weapon, a 3.2km run with pack and weapon, a 400m swim in 18 minutes in combat uniform, a 10-hour endurance navigation test and theory tests on weapons and mechanics.
If recruits pass the entry test they will face six months training, involving parachuting, rappelling and patrolling, before selection as a commando or possibly into the Special Air Service Regiment (SASR) based in Perth.
An advertisement announcing the recruitment drive warned: "The failure rate throughout the entire selection process is high." If successful, recruits can expect a special forces wage of A$64,000 (US$44,140) a year.
Lewis said he expected the bulk of commandos and special forces would still be recruited from the army, navy and air force.
"This direct recruitment from the community will only gather one-quarter to one-third of our needs," he said.
Comments will be moderated. Keep comments relevant to the article. Remarks containing abusive and obscene language, personal attacks of any kind or promotion will be removed and the user banned. Final decision will be at the discretion of the Taipei Times.