Bolivia leaps into the unknown with new leader
CRUCIAL CHANGE The persistently dire economic conditions of this poor South American country will pose the biggest challenge to its new president, Carlos Mesa
The social and political upheaval that led to the resignation of Bolivia's President Gonzalo Sanchez de Lozada late Friday closed a chapter in the landlocked Andean nation's attempts to speed up modernization, but it left a crucial question: What lies next?
The answer is crucial to Bolivia's neighbors, too.
For some analysts, the downfall of Sanchez de Lozada after weeks of violence that left more than 60 people dead is a leap into the unknown.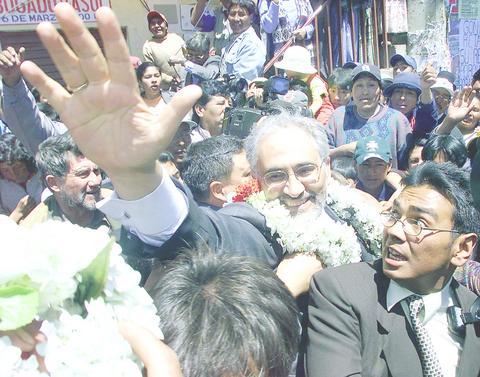 New Bolivian President Carlos Mesa, wearing a garland of flowers, waves during a meeting with residents of El Alto, 12km from La Paz.
PHOTO: AFP
"He had an impossible mission," said Norman Gall, head of the Sao Paulo-based Fernand Braudel Institute of World Economics.
"His departure is a bad precedent for the region. It weakens institutions already fragile in this continent," he said.
Stability in extremely poor Bolivia is considered important by its neighbors, especially by Brazil, South America's biggest economy.
Bolivia, an associate member of the Mercosur trade bloc made up of Argentina, Brazil, Paraguay and Uruguay, provides the bulk of the natural gas Brazil uses for industrial and domestic consumption.
Right after the Bolivian Congress accepted the resignation of Sanchez de Lozada, Brazil offered cooperation to its western neighbor.
A test to that gesture may come soon in talks in which Brazil seeks a decrease in the price it pays for the Bolivian gas.
Sanchez de Lozada visited Brasilia in April in an unsuccessful attempt to persuade Brazilians not only to keep the price but also to buy more gas.
In an interview in April, Sanchez de Lozada said he felt cornered by the economic crisis that has plagued his nation.
Bolivia has unemployment topping 10 percent and is one of South America's poorest countries. At least six of every 10 Bolivians live in poverty; in rural areas, it is as many nine out of 10. Many children leave school to earn livings shining shoes or shouting out the destinations of buses from on board.
"My first term [1993-1997] was paradise," Sanchez de Lozada said. "I could implement programs to stimulate progress in some regions. Foreign capital and investments were available and we grew at 5 percent or 6 percent annually. Now we are getting close to nothing."
Experts agree that economic conditions remain as dire and that they pose the biggest challenge for new President Carlos Mesa, the vice president sworn in late Friday.
"The change in command may improve the atmosphere for a dialogue among the Bolivian leaders. But the backdrop is unchanged: a social crisis exacerbated by poverty," said Rio de Janeiro's Federal University professor William Goncalves.
"Sanchez de Lozada was elected with 22 percent of the vote, something not uncommon in Latin America these days; he inherited a budget deficit of 8.5 percent of the GDP, an enormous percentage by any standards. And the gas deal with Brazil was not working: a pipeline built at a cost of US$2 billion was underutilized with Brazil buying just a third of what it had agreed to buy," Gall said.
Ironically, Sanchez de Lozada's efforts to find new markets for the gas were the straw that broke the camel's back. Bolivia's reserves rank second in the region after Venezuela's.
The gas export proposal may have also stirred racial fault lines separating the Andean population -- mostly Aymara and Quechua Indians -- from the minority of whites and mixed whites who have historically held Bolivian wheels of power.
"This crisis has made clear that there are problems there. At least, that there is a majority that has not benefited from the various cycles of Bolivian relative prosperity," Goncalves said.
Comments will be moderated. Keep comments relevant to the article. Remarks containing abusive and obscene language, personal attacks of any kind or promotion will be removed and the user banned. Final decision will be at the discretion of the Taipei Times.