Mother Teresa beatified
APPROACHING SAINTHOOD The pope yesterday added Mother Teresa of Calcutta to the ranks of the blessed, telling a huge crowd that he is personally grateful to her
Pope John Paul II, struggling to celebrate Mass but looking joyous, beatified Mother Teresa in a ceremony yesterday in a pilgrim-packed St. Peter's Square, bestowing one of his church's highest honors on the nun who cared for those many deemed society's lowest.
In a shaky and halting voice, John Paul managed to proclaim Mother Teresa blessed, the last major step on the path to sainthood. But after stumbling through several prayers, he let aides read all of his homily, including a tribute to "this courageous woman."
Police and Vatican security officials estimated the crowd at 300,000, one of the Vatican's largest. After a night of at times furious rain, the sun was shining yesterday and thousands of tourists and Romans streamed toward the square even after the ceremony began.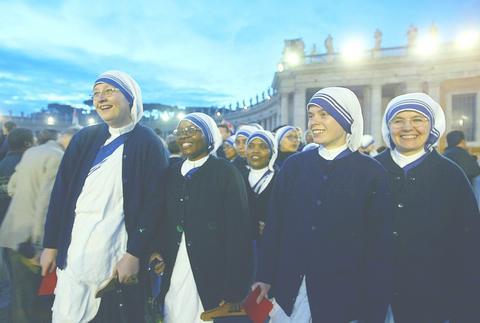 Nuns from the Missionaries of Charity arrive for Mother Teresa's beatification ceremony in Saint Peter's Square yesterday. Pilgrims, tourists, Catholics and members of other religions streamed into the Vatican to see Pope John Paul II put Mother Teresa of Calcutta on the road to sainthood.
PHOTO: REUTERS
"Brothers and sisters, even in our days God inspires new models of sainthood," John Paul told the crowd. "Some impose themselves for their radicalness, like that offered by Mother Teresa of Calcutta, whom today we add to the ranks of the blessed."
"In her, we perceive the urgency to put oneself in a state of service, especially for the poorest and most forgotten, the last of the last," John Paul said, speaking in a slow and shaky voice.
Nuns from her order wiped away tears and the crowd clapped when he pronounced her blessed and a poster of her smiling, wrinkled face was unveiled to the crowd from the facade of the basilica.
A procession of Indian women and girls, whose white-and-gold colored saris coordinated with the pope's resplendent gold-colored vestments, preceded a couple carrying a sample of Mother Teresa's blood toward the pope.
In his homily, read by Bombay Cardinal Ivan Dias and others, John Paul said he was "personally grateful to this courageous woman whom I have always felt at my side."
Another cardinal substituted the pope in saying some of the Mass prayers, further evidence of the pope's diminished stamina. After a week of several long ceremonies to mark 25 years in the papacy, John Paul faces another test of his strength tomorrow, when he is to lead a long ceremony to install 30 new cardinals
The stooped and frail figure of the 83-year-old pope drew parallels with that of Mother Teresa, who suffered from heart problems, and like the pontiff, ignored doctors' advice to slow down in the final years of her mission.
The crowd included thousands of pilgrims coming from Asia and North and South America, and among those singing hymns with gusto were hundreds of nuns from the Missionaries of Charity, the order established by Mother Teresa in 1949 to tend to the destitute.
Front-row seats were reserved for VIPs, including Queen Fabiola of Belgium, royalty from Liechtenstein and Jordan, the presidents of Albania, Macedonia and Kosovo in homage to Mother Teresa's roots in the Balkans, and about 2,000 of the poor who sleep and eat in shelters run by Mother Teresa's followers, including one inside the Vatican's walls. Also attending the ceremony were Muslim and Orthodox Christian delegations from Albania.
Mother Teresa, an ethnic Albanian, was born in what is now Skopje, Macedonia, spent most of her life working in India and established convents and homes for the needy, including those with AIDS, the homeless and unwed mothers around the world.
Critics have said her strong adherence to Church teaching, including bans on birth control and using condoms to help prevent the spread of AIDS, went against full service to humanity.
In an apparent rebuttal to such criticism, official representatives at the beatification included the Ivory Coast's minister for the fight against AIDS.
Comments will be moderated. Keep comments relevant to the article. Remarks containing abusive and obscene language, personal attacks of any kind or promotion will be removed and the user banned. Final decision will be at the discretion of the Taipei Times.