Freelance peacemakers enter Mideast fray
Frustrated by three years of violence and failed peace initiatives, former government officials, civic leaders and even Hollywood stars such as Danny DeVito have jumped into Israeli-Palestinian peacemaking, hoping to succeed where their leaders have failed.
While leaders on both sides can't even get a limited agreement off the ground, freelance peacemakers are offering sweeping visions of a final peace deal between Israelis and Palestinians.
"It's very essential that people stop feeling desperate and stop being represented by extremists on both sides," said Saman Khoury, a Palestinian negotiator.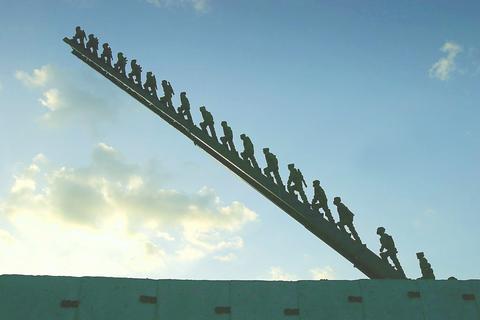 The sun sets on Saturday behind a sculpture south of Hadera, Israel, that shows 22 soldiers climbing a staircase. The sculpture is surrounded by a cement walled garden that is incomplete and was commissioned by the parents of 22 Israeli soldiers who lost their lives in a suicide bombing at the Beit Lid Junction near the sculpture on Jan. 22, 1995. The bombing was carried out by two Palestinians from Islamic Jihad.
PHOTO: REUTERS
The latest proposal, dubbed the Geneva agreement, was negotiated by former officials with Swiss government backing. It would require Israel to hand over almost all its war-won land, but not to accept returning refugees -- parameters that many on both sides are coming to view as inevitable.
Still, Palestinian leader Yasser Arafat, while saying he welcomed the deal, did not commit himself to it. And Israeli Prime Minister Ariel Sharon attacked the Israeli negotiators, most of them opposition members, for going behind his back.
"This agreement promises only false hope. By what right are left-wingers proposing moves that Israel can never make nor will ever make?" he said.
Three years of Israeli-Palestinian violence have destroyed trust on both sides. Israel blames Arafat for the suicide bombings and other attacks that have killed more than 400 Israelis. Palestinians blame Sharon for the military actions that have made their lives a misery.
Even if agreement were reached on the toughest issues -- the borders of a Palestinian state, the fate of Israeli settlements and Palestinian refugees and the possible division of Jerusalem -- it would be hard to make the concessions stick. Many Israelis refuse to consider dividing Jerusalem and abandoning settlements, and Islamic militants are sworn to destroy the Jewish state.
The 1993 Oslo Accords that were greeted with great hopes were narrow and never stopped the violence. Broader-reaching negotiations in 2000 did not meet with success. Even this year's US-backed "road map" peace plan stalled amid violence and internal Palestinian wrangling.
The road map envisaged creating a Palestinian state by 2005 and called for a series of short-term steps -- a Palestinian crack down on militant groups, an end to Israeli settlement building and the lifting of Israeli restrictions on Palestinians. However, it left all the details of borders, refugees and the fate of Jerusalem for a future international conference to decide.
In that respect, it resembled all past initiatives, leaving a huge gap between what the Palestinians and the Israelis expected from a final peace plan.
"This vacuum has been filled right now," said Orni Petruschka, who helped negotiate a peace proposal called the "destination map."
That plan, published earlier this year and posted at www.hashd.org, was championed by Ami Ayalon, the popular former head of Israel's Shin Bet security service, and Sari Nusseibeh, the president of Al-Quds University and a leading Palestinian intellectual.
The somewhat vague agreement would establish a Palestinian state in the West Bank and Gaza Strip generally along the borders that existed before the 1967 Mideast War. Jerusalem would be a shared capital and each side would administer its own holy sites.
Palestinian refugees would give up their claim to homes in Israel they left during the 1948 Mideast War. That "right of return" has been a red flag for Israelis, who fear the influx of Palestinians would dilute Israel's Jewish majority.
More than 50,000 Palestinians and 80,000 Israelis have signed their names to the plan, Petruschka said.
The Geneva plan, negotiated by former Cabinet ministers Yossi Beilin and Yasser Abed Rabbo, has not been published in full but seems to follow the same lines as the "destination map."
Comments will be moderated. Keep comments relevant to the article. Remarks containing abusive and obscene language, personal attacks of any kind or promotion will be removed and the user banned. Final decision will be at the discretion of the Taipei Times.