Wedding costs give cause for concern
ANXIETY The pressure on Vietnamese couples to finance lavish receptions and on guests to bring expensive gifts deprive the happy day of all joy
Autumn, with its blue skies and low humidity, is Vietnam's wedding season but it also marks a period of anxiety among prospective newly-weds and their guests over the costs of staging and attending the celebrations.
Vietnamese traditions demand that a soothsayer is consulted to select an auspicious date for the big day according to the lunar calendar. But that often results in hundreds of wedding ceremonies taking place on any one day, particularly in the major cities of Hanoi and Ho Chi Minh City.
Not surprisingly then, securing a location for the wedding ceremony is often an intensely stressful affair.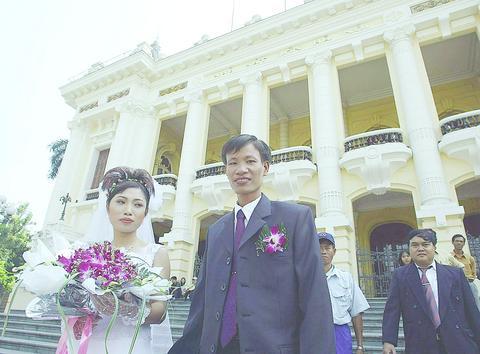 A newly wed couple poses for a picture in front of the French-style Opera House in the center of Hanoi yesterday.
PHOTO: AFP
"To have your wedding party organized at a proper restaurant during this season is a life or death struggle," said Nguyen Anh Ngoc, 27.
Last year, two months before his wedding, Ngoc and his fiance paid a deposit with a hotel in Hanoi to hold their bash there. A month before the big day, however, they were informed that their booking had been given to another couple.
"Either the other couple paid more money than us or they were acquaintances of the hotel staff," Ngoc's wife, Pham Bich Hong said.
"We had no choice but to give up our plans to get married there because if we had forced the hotel to honor our booking they would have retaliated by making the food horrible, ruining our party."
Eventually, the couple were able to find another less popular restaurant in which to hold their ceremony, but their experience left a sour taste in their mouths ahead of what is dubbed the world over as the happiest day of one's life.
Securing a venue, however, is not the only thing that needs to be booked months in advance -- wedding dresses are prized commodities during autumn.
Given the high cost of buying a dress, most brides hire them. But with the season crammed into the three month period from September, finding a dress can also prove to be a nightmarish task.
"During the wedding season, we sometimes have to dress 100 brides each day," said Dang Thanh Hang, the owner of Thanh Hang Jessian, one of the biggest wedding shops in the capital.
"If you want to have a fancy dress then you have to book months in advance," she added.
Pre-wedding anxiety, however, is not just confined to the couple.
Invitees to a wedding in the major cities are expected to give "lucky envelopes" stuffed with at least 100,000 dong (US$6.5) to the newly-wed couple or their parents, a huge amount in a country where annual GDP per capita is around US$400.
Few people escape attending only one wedding during the season. Many people receive at least 20 invitations. Furthermore the amount of money handed over depends on whose wedding it is and where it is being held.
Weddings among Vietnam's upper classes, often involving sons and daughters of high-ranking government and Communist Party officials, are frequently used by families to flaunt their wealth and to receive cash and gifts in a legal manner.
Enormous guest lists are drawn up, sometimes for up to 1,000 guests, thereby guaranteeing a sizeable inflow of cash.
Hien, who asked for her full name to be withheld, recalls the recent wedding of the son of her boss, who was the director of a state-run company under the control of the Ministry of Trade.
Prior to his son's wedding, Hien's boss had told people that the wedding would be held at a luxury hotel in the capital and that guests should come bearing gifts of at least 300,000 dong (US$20) each.
"I went to the party with a headache. I had to give away nearly half my monthly salary just like that. I did not come away with any feelings of a happy occasion. I see weddings here purely as a profit-making business," she said.
The phenomenon has become so rampant that Prime Minister Phan Van Khai sent an official letter to all ministries, state agencies and local governments last month ordering them to set an example by organizing simple weddings.
Previous calls for restraint have fallen on deaf ears, and it remains to be seen whether this latest order has any effect.
In the meantime, many Vietnamese can't wait for winter to arrive.
Comments will be moderated. Keep comments relevant to the article. Remarks containing abusive and obscene language, personal attacks of any kind or promotion will be removed and the user banned. Final decision will be at the discretion of the Taipei Times.