China agrees to Japanese compensation deal
China has accepted ?300 million (US$2.72 million) in compensation from Japan for losses caused earlier this year when workers dug up a cache of World War II-era chemical weapons left by fleeing Japanese armies in northeastern China, the foreign ministry said yesterday.
One worker died and 42 others were burned or injured after digging up five barrels of mustard gas in Qiqihar city, Heilongjiang province, in August.
They had been left there almost 60 years ago by Japanese armies in the aftermath of World War II.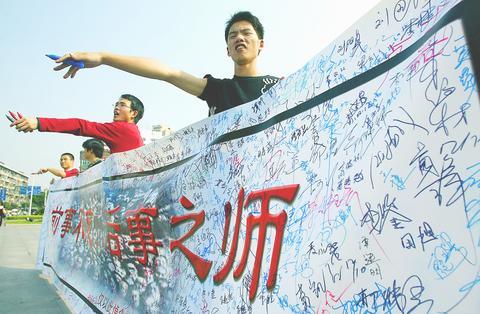 Chinese organizers in Guangzhou offer pens at a signing ceremony to mourn Chinese killed during World War II yesterday. Japan has agreed to pay China ?300 million (US$2.73 million) to help resolve a row over injuries caused in August by chemical weapons Japan left behind in China after World War II, China's Foreign Ministry said.
PHOTO: REUTERS
"This incident has seriously harmed the safety of the Chinese people and the nation's feelings and no amount of money can compensate this," spokeswoman Zhang Qiyue (章啟月) said in a statement on the ministry Web site announcing the compensation payment.
"The Chinese side calls on the Japanese side to fully recognize the serious consequences and the political fallout of this incident and quickly carry out its commitments [and] prevent a similar incident from reoccurring," she said.
She also urged Japan to quicken the pace of a project aimed at disposing of the huge stockpiles of chemical weapons left in China by retreating Japanese armies.
The family of the Chinese worker killed in the incident had demanded 2.4 million yuan (US$289,000) compensation from the Japanese government, while a Tokyo court in September also ordered the Japanese government to pay the compensation.
Japan's occupation of Chinese territory before and during World War II remains a constant source of tension between the two countries.
More than 700,000 chemical weapons are estimated by Japan to have been abandoned by its armies.
Chinese experts say as many as 2 million such weapons are still buried, giving China the world's largest stockpile of leftover chemical weapons.
Under the UN Chemical Weapons Convention, Japan has until 2007 to destroy all left-over chemical weapons found in China, but due to the large amount of stockpiles experts say it will take much longer to safely destroy so many bombs.
Comments will be moderated. Keep comments relevant to the article. Remarks containing abusive and obscene language, personal attacks of any kind or promotion will be removed and the user banned. Final decision will be at the discretion of the Taipei Times.