Bolivian president pushed out
DEATHS More than 65 people were killed in weeks of violent protest that led to Friday night's resignation of the unpopular Gonzalo Sanchez de Lozada
Bolivians traded their deeply unpopular president for his next-in-line after Gonzalo Sanchez de Lozada was driven from power by weeks of furious street protests that killed more than 65 people.
Vice President Carlos Mesa, 50, assumed the presidency late on Friday and quickly offered to hold early elections, calling for unity in a country deeply divided along class and social lines.
"We have to respond to one of the biggest challenges in our history. If you all can't help me there is no way we can crawl out of this," said Mesa, a former television reporter and a respected historian.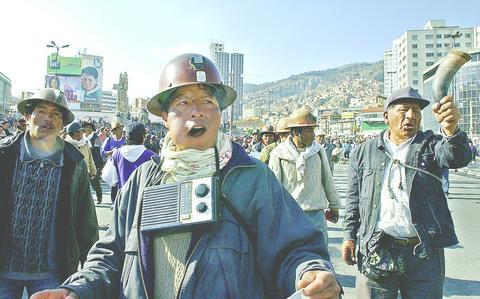 Thousands of miners and members of several organizations gather in a La Paz square on Friday hours before Bolivian President Gonzalo Sanchez de Lozada announced his resignation.
PHOTO: REUTERS
Sanchez de Lozada, 73, submitted his resignation on Friday after three weeks of deadly riots triggered by a plan to export natural gas to the US and Mexico. The proposal had outraged many Bolivians who had grown disillusioned with his free-market economic policies.
He stepped down after he lost the support of key allies and his beleaguered government collapsed, sparking widespread street celebrations.
"The people have won!" thousands of demonstrators shouted late into the night on a plaza only blocks from the presidential palace.
The US Department of State said it would send a team of fewer than six military experts to La Paz to assess security at the US Embassy.
In a statement yesterday, the State Department also said the US regrets the events that led to fall of the government and commended Sanchez de Lozada "for his commitment to democracy and to the well being of his country."
"It is now the responsibility of Bolivians to take steps to end political polarization and to guarantee respect for human life and the rule of law," the statement said.
Mesa will face staggering challenges, inheriting the leadership of South America's poorest country at a time when the economy has idled for years. Unemployment is at 12 percent and most Bolivians earn around US$2 a day.
Donna Lee Van Cott, an expert in Latin American politics at the University of Tennessee, said the new president might get an early boost from his status as a political independent -- but that could also make it difficult to govern, since he lacks a political base.
"Mesa is an outsider, which is helpful in terms of connecting with the disaffected groups," she said. "But it will be very difficult to govern in congress. It's going to be very difficult because of the demands of the indigenous sector. They've been deprived for so long, it may be difficult to negotiate with them."
Indian and union leaders spearheaded the street demonstrations, which began in late September and swelled into marches by thousands of poor Bolivians demanding Sanchez de Lozada step down from office.
As word of the resignation spread, thousands swarmed the streets of La Paz, the capital. Explosions boomed over the old Spanish colonial buildings as miners in hard hats lit sticks of dynamite in celebration.
"He's gone! He's gone!" Indian women in traditional bowler hats chanted alongside men and children.
In his resignation letter to congress, Sanchez de Lozada complained that he was being unfairly forced out of office.
"I do this unwillingly," he said, warning that Bolivian democracy was undergoing a "crucial hour," tested by the intense pressure of laborers, unions and other groups.
Congress, in an emergency session, accepted Sanchez de Lozada's resignation and quickly named Mesa to the top spot. As vice president, he was next in the line of succession.
Several spectators in the gallery and lawmakers shouted "Goni! Assassin!" using the president's nickname, in reference to as many as 65 deaths reported by human-rights groups from days of rioting.
The protests, which came 14 months into Sanchez de Lozada's second term, were sparked by the controversial plans to export gas through neighboring Chile.
The proposal tapped deep disappointment with Bolivia's decade-old free-market experiment, which has failed to narrow the enormous gap between rich and poor in this impoverished country.
The proposal also underscored spreading popular distrust with the government's US-backed policies against the growing of coca, the source of cocaine. The crackdown has deprived thousands of poor Indian farmers of their livelihood and plunged the president's popularity ratings into the single digits.
Comments will be moderated. Keep comments relevant to the article. Remarks containing abusive and obscene language, personal attacks of any kind or promotion will be removed and the user banned. Final decision will be at the discretion of the Taipei Times.