Calcutta celebrates life of Mother Teresa
PILGRIMAGE Tourists from all around the world are now flying into the city to pay homage to the nun whose aid to orphans and outcasts put her on the road to sainthood
The city of Calcutta, which Albanian-born Roman Catholic Mother Teresa regarded as her home, remembers her fondly and is planning to celebrate her beatification with prayers, the screening of films on her life and a procession by street children.
The mayor of Calcutta, Subrata Mukherjee, said the bustling city was being beautified in anticipation of an influx of tourists to celebrate Sunday's event.
"Civic employees are working round the clock to give Calcutta a festive look as tourists from across the world are flying into the city to pay homage at Mother Teresa's tomb," he told reporters.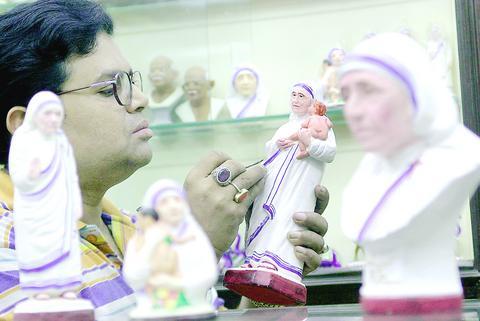 Indian artist Rabindranath Ghosh puts the finishing touches to a clay model of Mother Teresa for display at an Indian curio shop in Calcutta. The city that Mother Teresa called home is planning to celebrate her beatification in Rome next week with prayers, the screening of films on her life and a procession by street children.
PHOTO: AFP
Masons were meanwhile busy filling cracks in the walls of the three-storied headquarters of Missionaries of Charity (MOC) -- ?the order Mother Teresa founded in 1950.
"The building is being spruced up to mark the occasion," Sister Christie of Missionaries of Charity said as workers slapped paint on the walls of the building.
A giant television screen was to be set up at the city's biggest park adjacent to the Missionaries of Charity building where people could gather to see the beatification ceremony telecast live from the Vatican on Sunday.
Residents spoke lovingly of the nun who put their city on the map.
"Mother has made our city famous," said 50-year-old Ramesh Ahuja, who owns a curio shop in Chowringhee Road in the heart of the east Indian city.
"She was instrumental in a lot of orphan children getting good homes -- ?by sending them for adoption in India and abroad," he said.
Ahuja sells small figurines of Mother Teresa, which he said are great favorites among Indian and foreign visitors to Calcutta, where the nun worked among the poor and destitute for five decades.
"The statues cost 20 rupees to 200 rupees (US$0.41 to US$4) and we sell about 50 pieces a month," he said.
Ahuja's neighbor, 53-year-old Suresh Chabbria, described Mother Teresa as a "living goddess who worked for humanity.
"She made a great contribution to society. She was also a very humble and loving person."
Mother Teresa's work and fame was also drawing tourists into Calcutta which was helping the economy, he said.
"At present the main attraction in Calcutta is Mother Teresa. She is the one pulling in the tourists. When she becomes a saint, Calcutta will become a pilgrimage center," he said.
Papiya Chatterjee, a professional beautician, said she would remember Mother Teresa as a "great social worker."
"She opened homes for the orphans and tried to give some relief to the old," she said.
Dilip Das, a 40-year-old taxi driver said Mother Teresa "did a great deal for us and for Calcutta as a whole."
Narrating a personal experience, Das said his brother, who was suffering from tuberculosis 10 years ago, was given medication by a mobile clinic run by the MOC.
"Without their help, my brother wouldn't have survived," Das said.
Ashok Mitra, a garment factory worker, said he would remember Mother Teresa for her "selfless service to the people of Bengal."
"It's not an easy job to care for the sick who are not your own, to love children who are not your own flesh and blood and the destitute whom you pick up from the streets -- especially in a foreign country."
Archbishop Lucas Sircar of Calcutta said the Catholic world was celebrating the beatification, "Thanking God for sending such a person as Mother Teresa to us."
Among the ceremonies planned for Oct. 19 is a procession by about 1,000 street children carrying white and blue flags from the city center to the MOC headquarters.
Later, they would participate in a cultural program, said Herod Mullick, secretary of United Forum of Catholics and Protestants in West Bengal.
Another group of students would distribute fruits and sweets to the inmates of homes set up by Mother Teresa in the city, said Father C.M. Paul, president of Calcutta-based Catholic Association for Radio, T.V. and Cinema.
They would also take part in a concert to pay homage to Mother Teresa later in the day, he said.
All churches in Calcutta were to have special prayers on Oct. 19 to mark Mother's beatification.
More than 100 rallies covering West Bengal state are being planned for Oct. 18, the eve of the beatification, to spread Mother Teresa's message of amity and harmony, Mullick said.
The more formal celebrations -- a film festival featuring movies on Mother Teresa, an exhibition on her life and work and a felicitation ceremony -- would take place in November, said Eugene Gonsalves, president of the Catholic Association of Bengal.
Comments will be moderated. Keep comments relevant to the article. Remarks containing abusive and obscene language, personal attacks of any kind or promotion will be removed and the user banned. Final decision will be at the discretion of the Taipei Times.