Sheep-ship blaze incinerates feed
A fire broke out on a ship carrying thousands of Australian sheep as it docked in Kuwait, the Australian government said yesterday. None of the animals were hurt. \nTim Langmead, a spokesman for Australian Agriculture Minister Warren Truss, said "a small fire" started Sunday in wheat being loaded for the animals to eat. \nThe MV Cormo Express has been the focus of international attention for weeks as it tours the Persian Gulf seeking a country willing to take its cargo of some 50,000 sheep. \nThe sheep originally were bought by a Saudi importer but were rejected last month after officials in that country said too many of the animals were infected with the disease scabby mouth. \nSince then the Australian government has bought back the sheep and is trying to sell or give them away, amid criticism from animal rights groups at home and abroad that the live animal trade is inhumane. About 4,000 of the sheep have died during their two months at sea. \nThe government and farmers fear the sheep's plight could damage Australia's live animal export industry, which is worth A$195 million (US$125 million) a year, both domestically and internationally. \nLangmead said Canberra was still awaiting a detailed report on the blaze, but understood several tonnes of feed were destroyed. About 1,000 tonnes of wheat were being loaded when the fire broke out. \n"Initial reports we have are that it was caused by static electricity setting fire to feed," said Langmead. "Anywhere there is grain dust from wheat stocks there is always some possibility it can be easily ignited." \nAbout 40 placard-waving animal welfare activists gathered outside Parliament House yesterday to protest the trade. \nSenator Andrew Bartlett, who leads the Australian Democrats Party, told the small group that he would present to Parliament this week a petition signed by 20,000 people urging an end to the trade. \n"The torture has gone on long enough, the excuses have gone on long enough, it is time for this cruelty to be brought to an end and for this government to be brought to account and to listen to the overwhelming wishes of the Australian people," said Bartlett, whose party controls eight seats in Parliament's upper house, the Senate.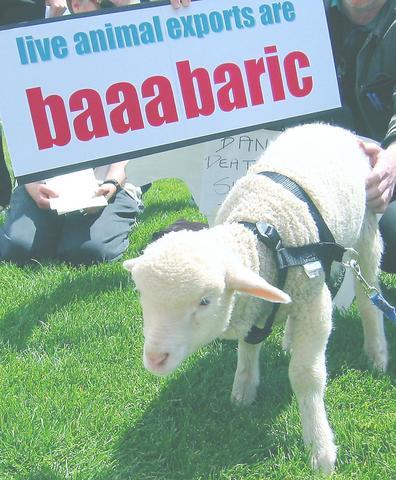 A sheep stands by a placard as animal welfare activists demonstrate outside Australia's Parliament House in Canberra to protest against the trade of live sheep to the Middle East yesterday.
PHOTO: AP
Comments will be moderated. Keep comments relevant to the article. Remarks containing abusive and obscene language, personal attacks of any kind or promotion will be removed and the user banned. Final decision will be at the discretion of the Taipei Times.