ASEAN leaders gather in Bali
SYMBOLISM Just ahead of the first anniversary of the Bali bombings, the heads of ASEAN countries were arriving for talks on terrorism and integration
Asian leaders converged yesterday on idyllic Bali about one year after its devastating nightclub bombings to display they are not cowed by terrorism and to discuss trade, anti-terror efforts and Southeast Asia's plans for economic integration by 2020.
Leaders or heads of state from India to Japan were arriving on the Indonesian island under extraordinarily tight security for an annual summit today and tomorrow of the 10-nation group, plus four of the region's biggest neighbors.
Talks leading up to the summit have been soured by Myanmar's continued detention of high-profile democracy advocate Aung San Suu Kyi -- an embarrassment for Myanmar's fellow ASEAN members and hindrance to the region's efforts to attract foreign investment.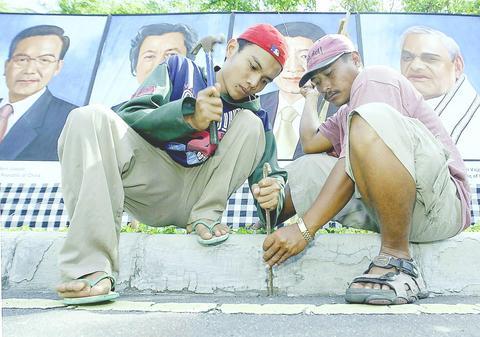 Balinese work on a kerb stone in front of giant billboards of Asian leaders, from left, Chinese Prime Minister Wen Jiabao, Japanese Prime Minister Junichiro Koizumi, Korean President Roh Moo-hyun and Indian Prime Minister Atal Bihari Vajpayee, outside the Sheraton convention center in Nusa Dua, Bali, yesterday.
PHOTO: AP
ASEAN comprises Brunei, Cambodia, Indonesia, Laos, Malaysia, Myanmar, the Philippines, Singapore, Thailand, and Vietnam.
ASEAN has tried with limited success for more than a decade to reduce tariffs among members, and the grouping has been criticized as all talk and little action.
ASEAN Secretary-General Ong Keng Yong said this year's summit will be more than just "old wine in a new bottle."
The group has drafted a timeline for implementing an ASEAN Economic Community, proposed at last year's summit and to be created by 2020.
A draft summit statement promises to standardize customs procedures by next year. By 2005, members would start to break down non-tariff trade barriers and to open up sensitive trade sectors. ASEAN members would banish visa requirements for residents of fellow ASEAN countries by 2005.
ASEAN wants to keep foreign investment from getting redirected to other sources of cheap labor -- especially China to the north and India to the west -- partly by setting up a network of standardized free-trade zones across Southeast Asia.
The hope is that while labor costs rise in well-performing economies such as Malaysia and Thailand, investors can be enticed into moving production to less-developed ASEAN countries rather than to China.
At the same time, ASEAN is moving toward its own free-trade agreements with nearby competitors like China and India.
The summit agenda includes side deals with China, Japan and India, involving both trade and security issues, such as fighting terrorism.
This year's summit statement is to be called the Bali Concord II. The first concord was penned at ASEAN's first summit in 1976, also held in Bali.
Leaders decided to return to the tropical island just ahead of the anniversary of last year's nightclub bombings on Oct. 12 which killed 202 people -- mostly foreigners -- as a show of support for Indonesia's efforts to crack down on the Islamic militants blamed for the attack.
Also See Story:

ASEAN must do more to draw investors
Comments will be moderated. Keep comments relevant to the article. Remarks containing abusive and obscene language, personal attacks of any kind or promotion will be removed and the user banned. Final decision will be at the discretion of the Taipei Times.