US military learned lessons in Iraq: report
ASSESSMENT As the armed forces analyze the successes and failures of the campaign to topple Iraq's Saddam Hussein, friendly fire is singled out as an issue of concern
An Iraq war review conducted by the Americans says the US military achieved a historic level of coordination of air, land and sea power but fell short in other respects, at the cost of American lives.
Too little was done to minimize incidents of "friendly fire," or inadvertent attacks by US forces on US or coalition troops, according to Admiral Edmund Giambastiani, chief of Joint Forces Command, which compiled the war review, known as a ``lessons learned'' report.
Giambastiani was testifying on the report for the first time yesterday before the US House of Representatives Armed Services Committee. In advance of the hearing he discussed it in interview.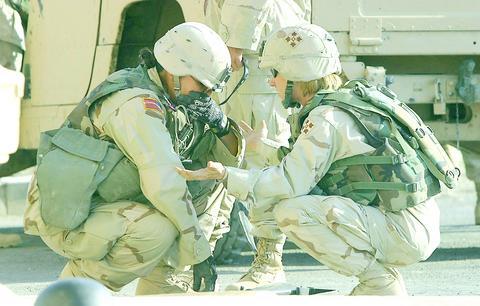 A female US soldier consoles another female soldier after an attack on US occupation forces that resulted in three soldiers wounded and one female soldier killed, yesterday in Tikrit, Iraq.
PHOTO: EPA
Portions of the report, which has been briefed to US President George W. Bush, are classified for security reasons.
In addition to friendly fire, the Giambastiani report found fault in a number of other areas, including:
Assessing damage inflicted on Iraqi forces by US air and ground fire. Timely assessments, a key to an efficient offensive, were hampered by the speed at which US ground forces advanced through the Iraqi desert.
"We couldn't keep up with operations," he said. "[Ground forces] were moving so quickly, it was difficult to assess how well we were doing."
National Guard and Reserves. The troops performed well, but the Pentagon bureaucracy needs to improve the way it alerts, mobilizes and trains reservists, Giambastiani said. In many cases reservists were given too little advance notice -- only a few days in some cases -- and in some instances troops who were mobilized had to sit around for weeks before they were used.
The sharing of battlefield information with coalition partners. The problem was not a reluctance to share but the application of US government policy restrictions that prevented coalition partners from getting the information in a timely manner.
Fratricide is a problem in every war, but after the 1991 Gulf War the Pentagon vowed to invest heavily in new technologies that would reduce inadvertent killings to an absolute minimum.
Giambastiani said in the interview that the Pentagon fell painfully short of achieving that goal.
"We've just got to do better," he said. "We've spent a lot of time and money on it since [1991], but frankly we just weren't there. We didn't have it deployed with all our forces, we were doing it at the last minute. It wasn't a good story."
Ground force commanders used an imaging system called "Blue Force Tracker" that gave them a view of the battlefield that showed locations of US and coalition forces.
However, that did not enable an American pilot, for example, to communicate in the heat of battle with a tank, or other obscured object on the ground to determine for certain whether it was friend or foe.
US Marine Corps Lieutenant General James Conway, commander of the 1st Marine Expeditionary Force, which linked up with the Army's 3rd Infantry Division in toppling Baghdad in early April, told reporters recently that while Blue Force Tracker was a useful tool, it was not an adequate answer to fratricide.
Conway's Marines were among the victims of the relatively few fratricide incidents during the war. On March 23, the deadliest day of the war for American forces, Air Force A-10 warplanes inadvertently attacked Marines near Najaf in south-central Iraq, and unconfirmed reports at the time said nine Marines died.
On March 22 an Army Patriot anti-aircraft missile shot down a British Tornado fighter, killing the two airman aboard.
On April 2 a Patriot missile shot down a Navy F/A-18C fighter, killing the pilot.
These and other incidents like them are still under investigation, and the number of casualties that can be attributed to friendly fire has not been determined.
But Giambastiani said he thought the number would turn out to be lower than in past wars. About three-dozen US military personnel were killed by friendly fire during the Gulf War.
Giambastiani's report did not investigate the circumstances of friendly fire incidents. Nor did it deal with other important issues that remain part of the debate about how the war was conducted. It did not, for example, examine the adequacy of Pentagon planning in advance of the war for how US and coalition forces would stabilize the country once the major fighting ended.
In the interview, Giambastiani said the major conclusion of his review was that joint warfighting -- the integration of capabilities brought to bear by all the armed services -- was taken to a new level.
Improving coordination of firepower from the Army, Air Force, Navy and Marine Corps has been a central goal of the Pentagon for years but has been hampered in the past by interservice rivalries.
In the Iraq war it blossomed like never before, Giambastiani said, in part because the Pentagon learned from the lessons offered by 1991 Gulf War.
Comments will be moderated. Keep comments relevant to the article. Remarks containing abusive and obscene language, personal attacks of any kind or promotion will be removed and the user banned. Final decision will be at the discretion of the Taipei Times.