Shots ring out as Iraqis discuss Hussains
BLAST Baghdad residents criticized the US' handling of Uday and Qusay Hussein's corpses as Iraqi police units came under fire from local resistance
As Iraqis debated whether video images of Uday and Qusay Hussein were authentic, shots and explosions were heard in Baghdad yesterday, reminding residents that attacks by insurgents remain a threat. No US soldiers were reported killed, a military spokesman said \nIn Baghdad's al-Shoala neighborhood, the commander of Iraq's national police academy was wounded in a raid against suspected hijackers, police told reporters. \nIt's not uncommon to hear gunfire and explosions in Baghdad during the night. The military had no details about them yesterday morning. There were also reports that shots were fired along the main highway leading to the northern city of Mosul, where Uday and Qusay were killed on Tuesday, but details weren't immediately available. \nBrigadier Ahmed Kadhim, 56, was shot around 1am while leading a police raid, said his assistant, Captain Mushtak Fadhil. \nHe said several Iraqi police were trying to arrest five suspected hijackers when shots were fired. None of the police were killed but Kadhim was shot in the right calf and taken to a hospital. Five other policemen were wounded, including one critically. \nFadhil said five suspected hijackers were arrested. \nBaghdadis have complained that kidnappings, car thefts and carjackings are getting worse in the city, which is patrolled by Iraqi police, many of whom carry sidearms. There are about 60 police stations in the city. \nIraqis continued to debate whether videotape the brothers, whose faces were covered in morticians' makeup, would convince people of the deaths. \nBoth bodies were displayed to journalists on Friday in a further attempt by American occupation authorities to convince skeptical Iraqis that Saddam Hussein's sons Uday and Qusay are really dead. \nThe newspaper Azzaman wrote about the bodies, but pointed out that few Iraqi journalists were allowed to see the brothers. \nMeanwhile, the hunt for their father intensified on Friday with the arrests of 13 men believed to include some of Saddam's bodyguards in a raid near the former leader's hometown, Tikrit. \n"We continue to tighten the noose," said Major General Ray Odierno, commander of the US Army's 4th Infantry Division. US officials have expressed hope that the killings of Uday and Qusay would weaken the anti-American resistance and lead coalition forces to Saddam himself. \nArab satellite media and CNN broadcast images of the bodies throughout Iraq and the Arab world. The corpses appeared markedly changed from the autopsy-style photographs released a day earlier. The thick beards -- grown, officials said, during three-and-a-half months on the run -- were now shaved and trimmed, their faces rebuilt and a gash gone from the face of the body identified as Uday. \nThe display appeared to be a calculated gamble by coalition authorities, who may have produced more convincing evidence but who also offended Muslims in Iraq and elsewhere by altering the bodies and delaying burial. \n"Showing dead and deformed bodies on TV is not acceptable," protested Amer Ahmed al-Azawi, a 55-year-old Baghdad merchant. "But the Americans are criminals and unbelievers. We got rid of one tyrant and we ended up with a bigger one." \nHamza Mansour, secretary-general of the Islamic Action Front in neighboring Jordan, said the display violated Islamic custom. \n"The bodies of Uday and Qusay should have been washed, shrouded and buried immediately, but the Americans have no respect for our traditions and doctrine and they acted in a very unethical manner," he said.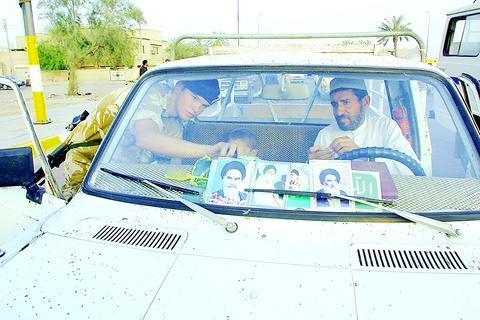 A British soldier searches the car of an Iraqi man at a checkpoint in the southern Iraqi city of Basra yesterday. Only one of Iraq's newspapers carried photographs of the bloodied bodies of Saddam Hussein's sons released by the US military to convince the Iraqi people of their death.
PHOTO: AFP
Comments will be moderated. Keep comments relevant to the article. Remarks containing abusive and obscene language, personal attacks of any kind or promotion will be removed and the user banned. Final decision will be at the discretion of the Taipei Times.