Argentina ends military impunity
`DIRTY WAR' A decree baning the extradition of Argentines supected of torture or murder during the miltary dictatorship has been struck down
The government of Argentina annulled a decree on Friday prohibiting the extradition of Argentines suspected of torture or murder in the 1976-83 "Dirty War," a landmark move that could lead to dozens of officers and former junta leaders being tried abroad. \nNewly elected President Nestor Kirchner, himself briefly detained during the military dictatorship, signed the order after returning from a state visit to the US. \nThe move came a day after an Argentine judge rocked the military establishment by ordering the arrest of 45 military officials and one civilian at the request of a Spanish judge who charged them with murders of Spanish citizens during the dictatorship. \nThe orders, which include several elderly and ill former junta leaders already detained on other rights charges, allows Spanish Judge Baltasar Garzon to request the extraditions. Up to 30,000 leftist opponents died during the Dirty War. \nKirchner came to power in May promising to end a "culture of impunity" that he said stained 20 years of democracy. Since then, legal moves against the military men, who still enjoy some legal protection due to amnesty laws in force, snowballed. \nThe arrest orders include 1976 coup leader Jorge Videla and Emilio Massera, head of the Naval School of Mechanics, which was known as a torture center. Videla is under arrest on other charges and Massera is incapacitated after a stroke. \nFormer naval captain Alfredo Astiz, known as the "blond angel of death" for the death squad he ran, was also detained, court officials said. French courts sentenced Astiz in absentia to life imprisonment for the murder of two French nuns. \nCourts must still rule on a case-by-case basis whether to extradite officials. Amnesty laws for officials involved in crimes during the dictatorship are in force but lower courts have gradually been striking them down. \nThe Supreme Court is expected to take up the issue and legal and rights experts say there could be a long road ahead before officials arrive handcuffed at a Spanish airport. \n"It's progress on the road to justice, to truth, the end of impunity. But I think there is still a long and winding road ahead in spite of this," said Rosa Roisinblit, a leader of Plaza de Mayo grandmothers, an organization that represents victims families. \nA military official shot himself in the mouth in a suicide attempt after learning he was among the suspects ordered to be arrested by judge Rodolfo Canicoba Corral. Naval officer Juan Antonio Azic is in critical condition. \nAt least 40 other officers, including an elected mayor, were detained by authorities on Friday. One civilian was also detained. \nThe armed forces, reorganized by Kirchner just after he came to power, have ordered officials to obey the courts. \nGarzon's probe stemmed from the deaths or disappearances of several hundred Spaniards during military rule in Argentina. Garzon is famous for his ultimately unsuccessful legal crusade against former Chilean dictator Augusto Pinochet. \nA former Argentine naval officer was extradited from Mexico last month to be charged in a Spanish court with acts of terrorism and genocide during the military government. \nKirchner's decision will fortify the image a new president increasingly popular at home for shaking up the military top brass and crusading against judges he accused of corruption.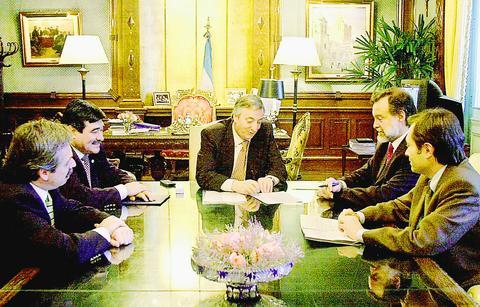 Argentina's President Nestor Kirchner, center, signs decree 420 in Buenos Aires on Friday, clearing the way for the extradition of 45 military men and one civilian wanted in Spain on charges of human rights violations during the 1976-1983 miltary dictatorship.
PHOTO: AFP
Comments will be moderated. Keep comments relevant to the article. Remarks containing abusive and obscene language, personal attacks of any kind or promotion will be removed and the user banned. Final decision will be at the discretion of the Taipei Times.