Cheney plays up Iraq's WMD threat
JUSTIFICATION In the absence of any weapons of mass destruction being found in Iraq, the US vice president claims development programs were the real threat
US Vice President Dick Cheney offered the White House's most comprehensive rebuttal to a growing tide of skepticism about justifications for the Iraq war on Thursday, arguing that it would have been "irresponsible in the extreme" to ignore the threat from Saddam Hussein's weapons program. \nCheney's remarks, in a rare speech that was given at a conservative policy institute, sought to refute growing criticism, both on Capitol Hill and across the country, that the administration exaggerated the danger of Iraq's weapons to justify the war. His comments also reflected an effort to recast the Iraq war as part of the broader campaign against terror, a linkage that administration officials say puts Iraq in a better political light for them. \nCheney did not mention the debate over President Bush's State of the Union address in January, which included information, since discredited, that Iraq sought uranium in Africa for nuclear weapons. But his advisers said the speech was intended, in part, to tamp down that debate. "This was partly in response to the recent unpleasantness," one adviser said. "We had to get out of the hole we were in." \nIn his speech, Cheney tried to put the administration's critics on the defensive. "At a safe remove from the danger, some are now trying to cast doubt upon the decision to liberate Iraq," he said. "Those who do so have an obligation to answer this question: How could any responsible leader have ignored the Iraqi threat?" \nCheney then read from four sections of a recently declassified National Intelligence Estimate on Iraq's weapons programs. That report's conclusions have also come under increasing scrutiny. \n"Baghdad has chemical and biological weapons, as well as missiles with range in excess of the UN restrictions," he said, reading from the document. "If left unchecked, it probably will have a nuclear weapon during this decade." \nHe continued, "All key aspects -- the R and D, production and weaponization -- of Iraq's offensive biological weapons program are active, and that most elements are larger and more advanced than they were before the Gulf War." \nBut many of the assessment's conclusions are increasingly open to challenge and more attention is falling on a dissenting view attached to the intelligence estimate in which the State Department said "the activities we have detected do not, however, add up to a compelling case" that Iraq was pursuing a comprehensive plan to obtain nuclear weapons. Moreover, in the three months since Saddam's government collapsed, American military forces have found virtually no evidence of Iraqi chemical or biological weapons. \nCheney's assertions were toned down from some of his earlier warnings about Iraq. In March, he said on the NBC News program Meet the Press that Iraq "has, in fact, reconstituted nuclear weapons." On Thursday, he fell back on the more cautious language in the intelligence assessment. \nHe said on Thursday that Saddam had "cultivated ties to terrorist groups" but did not repeat White House assertions that Iraq had connections to al-Qaeda. \nOfficials at the American Enterprise Institute, where he spoke, said they were told on Tuesday that Cheney, a former trustee, wanted to give "a major address" on Thursday. Except at fund-raisers, Cheney rarely speaks in public, and, when he does, it is a usually a sign that the White House needs to deliver a message with exceptional impact. \nHis speech on Thursday coincided with the release of a congressional report critical of the government's failure to prevent the Sept. 11 terrorist attacks. \nWhile aides said the timing was unrelated, Cheney used the occasion to underscore the administration's post-Sept. 11 commitment to rooting out terrorists and their sponsors worldwide. \n"We will not permit outlaw states and terror groups to join forces in a deadly alliance that could threaten the lives of millions of Americans," he said. "We will act and act decisively, before gathering threats can inflict catastrophic harm on the American people." \nHe warned that "loose and decentralized networks of terrorism are still finding recruits" to plot attacks against Americans. But he cautioned: "No one should doubt the intentions of our nation. One by one, in every corner of the world, we will hunt the terrorists down and destroy them." \nDemocrats on the Hill were mainly focused on the Sept. 11 report, but some accused Cheney of using the speech to try to divert attention from contentious intelligence issues and near-daily deaths of American soldiers in Iraq. \n"He's trying to put the events of recent weeks in Iraq in the broader context of the war on terror because that plays to the president's strengths," said one senior Senate Democratic aide. "Never mind that was not an extension on war on terrorism, but a distraction from it."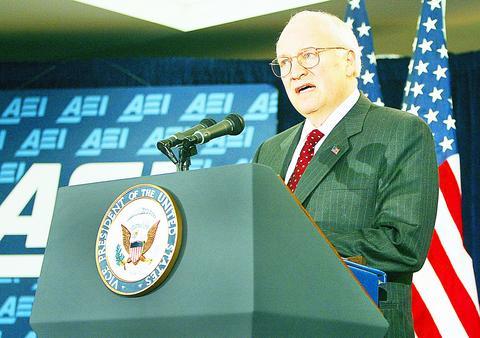 Vice President Dick Cheney speaks on Thursday about Iraq and the war on terrorism to members of the American Enterprise Institue in Washington. Ignoring threats posed by Saddam Hussein would have been ``irresponsible in the extreme,'' Cheney said, doing his part to defend the Bush administration's mission in Iraq.
PHOTO: AP
Comments will be moderated. Keep comments relevant to the article. Remarks containing abusive and obscene language, personal attacks of any kind or promotion will be removed and the user banned. Final decision will be at the discretion of the Taipei Times.