Panel tells US it's now or never in Iraq
ADVICE The five policy experts said that the US civil administration needs money and aid fast or the sun will set on Washington's hope for an orderly occupation
The US faces a rapidly closing window of opportunity to create law and order in Iraq or face a possible descent into chaos, experts sent by the Pentagon to assess postwar reconstruction efforts said on Thursday. \nThe team of five policy experts issued a report urging the Bush administration to secure greater international involvement in the reconstruction process and calling the US civil administration leading the efforts "badly handicapped" by a business-as-usual approach during an urgent situation. \nThe report said "the next three months are crucial to turning around the security situation, which is volatile in key parts of the country," but added that the US needs to be prepared "to stay the course in Iraq for several years." \nThe experts recommended that "the entire effort be immediately turbo-charged" by swiftly increasing funding and personnel for reconstruction, involving many more Iraqis in rebuilding and improving communication with Iraqis. It also noted the importance of ensuring the success of the new Iraqi Governing Council. \n"We owe it to our people in the field, and to Iraqis, to provide everything necessary to get this right. US credibility and national interest depend upon it," the report said. \nThe team visited Iraq from June 27 to July 7 at the invitation of US Defense Secretary Donald Rumsfeld and Paul Bremer, chief US civil administrator for Iraq, to provide a fresh assessment of reconstruction efforts. It was led by former Clinton administration Pentagon official John Hamre, who heads the respected Center for Strategic and International Studies Washington-based think tank. \nPentagon spokesman Bryan Whitman said Hamre briefed Defense Department officials on his findings, and officials will decide "how we might put into practice the elements and findings as appropriate." \nThe US is facing what officials now call a guerrilla-style war spearheaded by remnants of President Saddam Hussein's government that was ousted in the US-led war. Iraq remains plagued by lawlessness and unemployment, with basic services still unreliable. US troops face daily attacks. \n"The window of opportunity that we have here is closing. It's not going to be everlasting," former State Department official and CSIS expert Bathsheba Crocker, one of the five experts, told Reuters. \n"It will be important for Iraqis to start seeing some real changes, both with respect to an improvement in public safety and with respect to getting quality of life issues back up and running, like power and water," Crocker added. "There is a growing potential for real chaos or problems because of the security situation in particular." \nThe report calls for bringing in countries to assist in the reconstruction effort beyond the limited coalition that waged the war, and making greater use of the United Nations. It also said Bremer should employ international experts on his staff.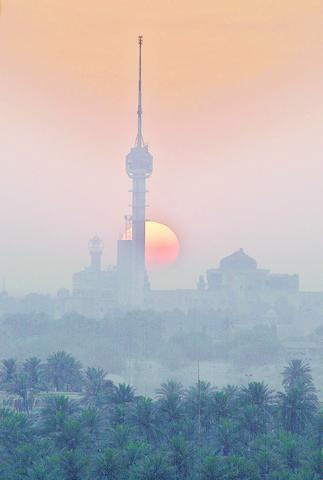 The sun sets on the Saddam Tower in Baghdad, on Thursday. On the anniversary of Saddam's Baath Party's coming into power there were no reports of violence involving US troops, and American patrols in the capital had noticeably dropped off. Streets normally filled with military vehicles were strangely quiet, perhaps part of an effort to avoid confrontation.
PHOTO: AP
Comments will be moderated. Keep comments relevant to the article. Remarks containing abusive and obscene language, personal attacks of any kind or promotion will be removed and the user banned. Final decision will be at the discretion of the Taipei Times.