Ruined city reveals depth of Liberia's plight
The old public hospital here in the Liberian capital stands on a hill overlooking the Atlantic with a pair of stone lions perched alongside its wide majestic steps. It was once the seat of the health ministry. A generation of Liberians was born in its wards.
Today, it is a hollow cavern offering a grim sanctuary for families displaced by their country's unending war. Laundry is laid out on the steps to dry. In the dark, a young girl stands in a doorway, washing with a bucket of water procured from who-knows-where. The beach out front has become a vast public toilet -- running water and latrines having become luxuries for the thousands of Liberians who have crowded in from the countryside.
Up the road, on a promontory overlooking the sprawling city named after former US President James Monroe, stands what looks very much like a replica of the White House. It is Monrovia's Masonic Temple, and its tall stone pillars announce the aspirations of a city settled 150 years ago by freed American slaves, looking for their own piece of Africa.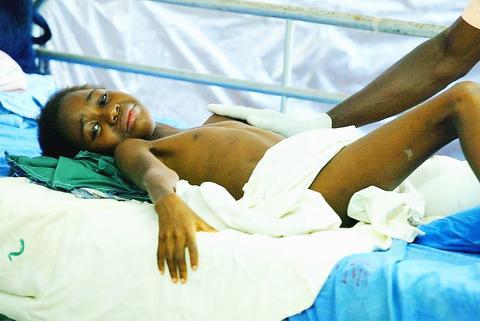 A victim lies in a ward of John F. Kennedy Hospital in Monrovia on Sunday. Since last week, at least 220 people, mostly civilians, have died in combat and a further 300 have been wounded in the Liberian capital.
PHOTO: AFP
Now, it is dingy and undignified, occupied by hundreds of people chased from their homes by mortars and machine guns as government and rebel forces dueled for control of Monrovia last week. Head-wraps and plastic mats shield the windows, keeping out the rain. The unkempt front lawn does double duty as laundry and lavatory.
With health conditions so poor, many children here have been wheezing, vomiting and falling ill with diarrhea. A nearby clinic, run by the French aid agency Doctors Without Borders, is filling up with cholera patients.
Few are leaving the Masonic Temple, uncertain about how long the latest ceasefire, announced last Friday, will hold.
"The heart of a man is greatly wicked," roared Nathaniel Morris, a schoolteacher, who fled here last Tuesday. "We only wait."
Liberia's disintegration cries out from the ruins of its capital. Once, there was running water and electricity around the clock. Tens of thousands of foreigners made their living here:
The Lebanese who plied their trade had a school opposite the old public hospital. The Indians built a Sikh temple down the road. Swiss, American and Belgian airlines made regular touchdowns at the airport. Through the Cold War years, US aid poured into the country, no matter what sort of president was in power.
Monrovia today bears the scars of more than a decade-long string of battles. Its ruined architecture is the starkest metaphor for the collapse of its most basic functions.
The healthcare infrastructure has crumbled. Schools have turned into refugee camps. Militias loyal to President Charles Taylor have become a terrifying de facto police force, accused by ordinary citizens of robbing them in the dark.
At 4am on a recent day government soldiers visited one man, demanding cash and leaving him with a bullet wound to his abdomen.
His sister carried him in a wheelbarrow to seek medical help -- there is no ambulance service here. A neighborhood doctor, Keressemba Conde, dressed the man's wounds. In Conde's clinic, he has been trying to perform surgery without the most basic medical supplies -- no gauze, no pain killers, no antibiotics.
The doctor said he himself had been threatened by pro-government militias. They came around the other night, he said, demanding his car.
If and when an international peacekeeping force arrives, this is the rubble that it will face. Calls for intervention have grown increasingly louder in recent days.
Whether the Americans will take an active part in that intervention depends on a number of issues that are yet to be resolved, including when and how Taylor will step down as president.
Comments will be moderated. Keep comments relevant to the article. Remarks containing abusive and obscene language, personal attacks of any kind or promotion will be removed and the user banned. Final decision will be at the discretion of the Taipei Times.