Pinkerton's chief hot on the trail of Taiwan's counterfeiters
The director of operations of Pinkerton (Taiwan) Ltd, Danny Macdonald, recently spoke to `Taipei Times' staff reporter Richard Dobson about the company's role in investigations into cases of intellectual property rights-abuse as well as their handling of commercial inquiries and security-consulting cases
Taipei Times: What constitutes the main revenue/business source for Pinkerton in Taiwan? \nDanny Macdonald: Pinkerton in Taiwan was established 24 years ago, originally as a consulting office primarily dealing with intellectual property (IP) infringements -- such as trademark, patent and copyright infringements. However, over the last 10 years the office has developed and expanded the commercial inquiries and security consulting division. Today, the commercial investigations division, which comprises of due-diligence inquiries, fraud, kickbacks, theft, conflict of interest investigations, etc., contributes approximately 40 percent of our revenue, IP investigations contributes approximately 40 percent, and security consulting, which covers crisis management planning, security surveys, technical surveillance countermeasures sweeps, proprietary information protection plans etc, contributes approximately 20 percent of our revenue. \nTT: What are some of the obstacles to conducting investigations in Taiwan? \nMacdonald: On the commercial inquiries side, the lack of publicly available information on firms and the lack of financial clarity makes it difficult to gather complete and accurate information on Taiwanese corporations. There is also a lack of experience on the part of the legal system in dealing with relatively new crimes, such as the theft of trade secrets, so that it can be difficult to ascertain exactly what information is needed by the courts to prosecute a subject, to ensure your client has a strong case. With regard to counterfeiting, there are quite a few issues. To start, many of the counterfeiters in Taiwan have been doing so for a number of years and after they've been caught once, they don't make the same mistake twice, so you constantly have to come up with new and innovative ways to keep ahead of these individuals. There are also difficulties relating to the legal system, with the Power of Attorney requirement still being a major problem area in Taiwan. To conduct a raid action, you require a Power of Attorney [authorization] which is signed by the responsible person of the company, which normally means the document has to be sent oversees, notarized and legalized, and then sent back to Taiwan. This process can take weeks, which makes it difficult to put together an effective enforcement program, particularly when goods can be at a factory one day and distributed throughout the market the next. \nTT: How does the legal framework, local courts and police force play a role in how you conduct your work? \nMacdonald: In all cases where a client's aim is to take legal action against a subject, we need to work closely with the police and the prosecutors' office, to ensure we gather enough objective information to allow the prosecutors to take action on our client's behalf within the Taiwanese legal framework. Many clients, however, often decide not to prosecute a case in Taiwan's courts because of the arbitrary nature of the legal decisions, the amount of time it takes for cases to proceed through the legal system, the difficulty in securing a conviction, and the small penalties normally sentenced by the courts. If there is the possibility of taking action against an individual in another country, our clients will often attempt to gather information in Taiwan which will assist them in taking legal action in a more judicially friendly location. \nTT: Does Pinkerton encounter any opposition from domestic officials and law enforcement agencies due to the investigative nature of the business? \nMacdonald: I wouldn't say we encounter opposition. We have had situations in the past where it has been difficult to enlist the assistance of some law-enforcement agencies. Sometimes this seems to be due to apathy, sometimes I think because police see us as a competitor, and sometimes possibly because of more ambiguous reasons. In saying that, we have developed a good working relationship with several agencies and we tend to use these bodies wherever possible, if we need law-enforcement assistance. At the end of the day, we are all after the same result, whether the aim is to solve a theft or a fraud case or to stop a counterfeiter from producing fake goods. \nTT: Business-interruptions/disaster recovery was listed as the top concern by companies in a regional survey conducted by Pinkerton late last year. Does this remain the leading concern in the region? \nMacdonald: Business-interruption/disaster recovery is certainly one of the leading concerns and consistently places in the top two or three year after year. The level of concern will differ depending on the country in question. In Australia, obviously because it is a fairly stable environment, it is not ranked as high as in Taiwan where it is consistently the number one concern. What often surprises me is that, while companies see disaster recovery as a major concern, many still don't have crisis management or emergency response plans in place. In a disaster prone location like Taiwan, this can be catastrophic. \nTT: How has Pinkerton assisted companies in Taiwan following earthquakes, typhoons and now drought? \nMacdonald: The type of assistance varies depending on the level and type of disaster. Following the earthquake in September 1999, we assisted companies on a variety of levels. \nFor some clients we had Pinkerton personnel at their offices or alternate business sites to assist them in putting their crisis-management plans into action and to provide direction for their crisis-management teams. We also acted to secure their buildings and we provided our satellite telephones to enable them to contact their regional offices. \nFor others it was helping them locate their goods in transit, which were left unsecured at various distribution terminals, or tracking down their employees, which they had difficulty locating because of communications outages. One client company couldn't contact over thirty of its personnel in central Taiwan and we spent three days visiting homes and disaster centers around the Nantou area to locate all of their missing employees. \nFollowing major typhoons that have caused significant damage to power and telecommunications networks in Taiwan, we have provided similar services to those just mentioned. With regard to the recent drought, to date it hasn't reached the point where it has affected the ability of our clients to operate. In the unlikely event that it escalates to a level where there is a severe shortage of water in Taiwan, I would expect several corporations will look at updating their evacuation plans and consider whether it is necessary to move the spouses and families of their expatriate personnel off the island. \nTT: How does Pinkerton act to prevent, or follow up on, business espionage/theft of trade secrets? \nMacdonald: One of the fastest growing parts of our business is the development of proprietary information protection plans for companies. Often, while corporations have thorough procedures in place to protect their proprietary information in their home country, they fail to put similar procedures in place at their branch offices, which places their proprietary information at risk. Of the limited number of cases actually prosecuted under the United States Economic Espionage Act, two involved Taiwanese nationals and Taiwan's record on IP protection is also questionable, therefore there is a real threat. \nThe issue of a group of key employees leaving a corporation and opening up their own company in the same industry, using their former employers' proprietary information, is a growing concern in Taiwan. If a company does suspect that there has been a theft of trade secrets, we work closely with their local legal representative and the prosecutors' office to define what information is actually required to put together a solid case against the company or individual in question. This can often be an ongoing process because the trade secrets law is a relatively new law in Taiwan therefore the legal system does not have a lot of experience in dealing with such cases. \nTT: What kind of intelligence sources do you employ in Taiwan? \nMacdonald: We have been in the Taiwan market for over 24 years so we have developed a good network of sources, however, the types of sources utilized will vary depending on the type of case. We also have an extensive database of information based on past cases, which is an invaluable resource. \nTT: Is it usually foreign companies seeking your services and how do the problems of foreign firms differ from those of local firms when it comes to investigating issues such as IP theft, fraud or client screening and due diligence? \nMacdonald: While we provide consulting services to several large local firms, the majority of our clients are foreign. On the due-diligence side, we mainly deal with foreign investment into the local market therefore our work mainly comes from overseas. We have, however, seen an increase in work on behalf of Taiwanese firms wanting to examine the current financial and operational status of their clients' overseas assets -- regarding concerns about the impact of the recession on their business operations. \nRegarding IP investigations: while we primarily work for foreign companies, I think the nature of the market is bound to change in the future as local firms become more concerned about protecting their patents and trade secrets, particularly as Taiwan is one of the top countries when it comes to the registration of international patents. \nTT: Who are your main competitors in Taiwan and how do you market your product to customers in Taiwan? \nMacdonald: We are in a unique position in that we are the only international consulting and investigations firm in Taiwan. There are quite a few small, local investigative firms but they tend to handle mainly local cases, such as marital-type cases, or provide assistance working on specific parts of a larger investigation. We promote our products in a similar way to other organizations, through advertising and personal contact, and we find that the quality of our product normally sells itself. \nHowever, because there is a strong element of trust and confidentiality involved in our work, we also find that client referrals are an excellent source of business, be-cause a client will often feel a lot more comfortable engaging your services if they know you have a proven track record.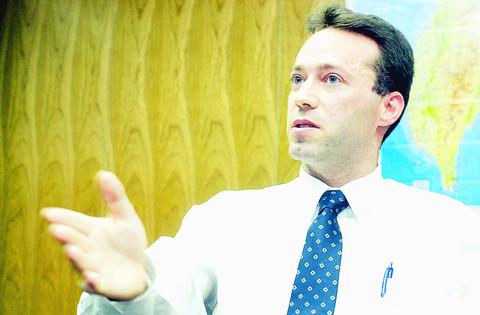 Pinkerton's director of operations in Taiwan, Danny Macdonald, throws an idea at `Taipei Times' reporter Richard Dobson during a recent interview.
PHOTO: CHEN CHENG-CHANG, TAIPEI TIMES
Comments will be moderated. Keep comments relevant to the article. Remarks containing abusive and obscene language, personal attacks of any kind or promotion will be removed and the user banned. Final decision will be at the discretion of the Taipei Times.