Cultural sensitivity a profitable asset
Toshio Miyagawa, president and chief executive officer of Hakuhodo Inc, one of the largest advertising companies in Japan, sat down yesterday with `Taipei Times' staff reporter Stanley Chou to talk about advertising issues in Asia
Taipei Times: What is your company's market focus and how do you differ from Western advertising agencies?
Toshio Miyagawa (宮川智雄): As a global advertising company, Hakuhodo (博報堂) is currently focusing our operations in Asia, since we think it's the most important market for us.
We expanded our operations around Asia many years ago. [Our logic is that] the Asian market is the nearest market to Japan and is similar in culture. Many Japanese companies have expanded their operations to other Asian countries and we want follow in their footsteps and provide the same services to them as we provide in Japan.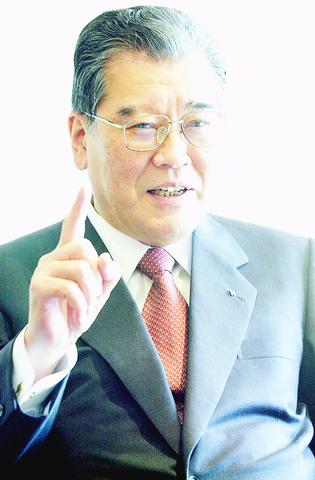 Toshio Miyagawa, president and chief executive officer of Japan's Hakuhodo Inc is in Taipei to take part in the 22nd Asian Advertising Congress being held at the Taipei International Convention Center.
PHOTO: GEORGE TSORNG, TAIPEI TIMES
Japanese advertising companies differ significantly from their European and American peers. One difference is that we often have multiple clients that compete among themselves and yet are our clients at the same time.
A good example is that we could have automobile companies such as Toyota, Nissan and Honda as our clients all at the same time, which I do not think happens in Western countries very often. We also have developed ways to handle such clients, ie, to have a number of [independent] subsidiary companies within our company.
For example, we have four subsidiaries and each one is responsible for one automobile company. This is a special situation that exists in Japan.
In order to provide advertising services for our domestic clients who have operations in other Asian countries, we are planning to establish networking services in the next three years, with more than two networks in each Asian country.
We have also set up targets for Asian markets. The five most important Asian nations are Taiwan, South Korea, China, India and Thailand.
For example, in Taiwan, we have already set up three subsidiary companies, including H&Y Communications Inc (博陽廣告公司), Hakuho Communications Inc (博報廣告公司) and HY Marketing Inc (博陽行銷顧問公司). Each subsidiary will serve one client.
TT: Can you tell us about the Hakuhudo Seikatsusha (生活者) consumer survey conducted by your company?
Miyagawa: We have been conducting Asia-wide consumer surveys since 1981, this being the 20th year of the survey. In each survey, more than 11,000 consumers in Asia participate -- a feat which no other company has achieved. The results of the survey are widely reported by media all over Asia after we publish it.
The conclusions generated from these surveys serve as an important asset for our service to our clients. The purpose of it is to bring our know-how in Japan together with our clients to other Asian countries, such as Taiwan. It means that we are extending our services from Japan into Taiwan and other Asian countries, since we have a clear understanding of Asian consumers.
For example, in the Hakuhodo Asia 2001 survey, we discovered that the generation gap may be smaller than one would think in consumer behavior. In Taipei and Japan, after we compare the answers of young people aged 15 to 24 with the answers of respondents aged 35 to 44, the pattern of replies received from the two groups are almost identical. This is just an example of what we can learn from the survey.
TT: What adjustments do you make to your strategy when entering a new Asian market?
Miyagawa: Frequently we have partners in various Asian countries, such as in South Korea, Thailand and India. Through our local partners we work to understand the cultural differences between each country. After gaining an understanding of the local culture, we integrate that with our know-how in advertising to that culture.
TT: How have changes in the delivery of advertising, like the Internet, affected your company's development of advertising?
Miyagawa: When a new medium appears, such as the Internet, it affects the technical part of our know-how, but the core essence does not change. We do not treat a new medium as a bottleneck in our business. For example, our services include all media -- from radio all the way to Internet -- but that doesn't change the nature of the business.
TT: How do you keep a company like yours, with over 100 years of history and innovation, moving forward?
Miyagawa: We pay close attention to what's going on in our environment -- the relationship between media, consumers and our clients. We absorb all the information required to adapt to the new environment, and create new strategies to cope with change. Most importantly, we emphasize our first-hand working experience with our clients and consumers.
TT: Will China and Taiwan's accession to the WTO affect your business in these markets?
Miyagawa: Before their entries into the WTO, China and Taiwan had already begun cross-strait trade. Therefore I believe it will help interaction across the Strait for both Chinese and Taiwanese businesspeople. We anticipate it will be beneficial for both markets. Following entry, the exchange of information and personnel will be more frequent. Generally speaking, I think the advantages will be greater than the disadvantages.
TT: Do you have any plan to further penetrate Asian markets in the future?
Miyagawa: Currently we have divided the Asian market into two major parts -- Southeast Asia and Northeast Asia. Another important market is the Greater China mar-ket, which we currently focus on from Hong Kong. China is a vast market -- Beijing, Shanghai to Canton -- with each regional market having its own cultural differences and dialects.
With the growing popularity of television in China, we believe there will be more business opportunities for us.
However, we will stick to our principle of understanding local cultures before launching any advertisements.
TT: Do you think China can maintain its 7 percent economic growth over the next few years?
Miyagawa: In the next five years, China is likely to maintain its 7 percent annual growth rate. However, we are skeptical as to whether it will be able to maintain such growth rate after that.
In order to cope with such high growth, we are planning to establish more operational sites in China for our large clients. Mean-while, we will conduct more studies of consumer behavior in China and use that information to cultivate more customers there.
Comments will be moderated. Keep comments relevant to the article. Remarks containing abusive and obscene language, personal attacks of any kind or promotion will be removed and the user banned. Final decision will be at the discretion of the Taipei Times.