2020 Elections: TSU urges voters to back Tsai and it
Taiwan Solidarity Union (TSU) officials and legislative candidates yesterday urged voters to cast their ballots for President Tsai Ing-wen (蔡英文) and reject Kaohsiung Mayor Han Kuo-yu (韓國瑜), the Chinese Nationalist Party's (KMT) presidential candidate, as supporting Han is tantamount to supporting support China.
The Chinese government has meddled in the election by providing money for several small political parties, they said.
"Tsai and the Democratic Progressive Party [DPP] have moved to the middle ground, in upholding the Republic of China [ROC]-Taiwan framework, and only the TSU advocates scrapping the ROC and establishing the Taiwan nation," said Billy Pan (潘建志), first of the TSU's list of legislators-at-large nominee.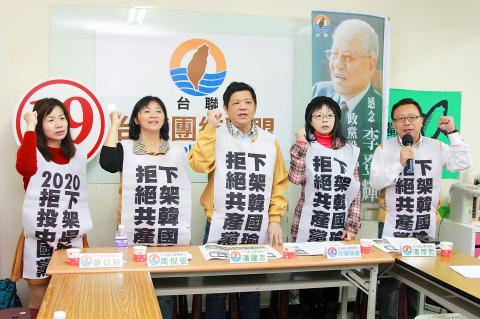 Taiwan Solidarity Union legislative candidates at a news conference in Taipei yesterday urge voters to reject the Chinese Communist Party by not voting for Kaohsiung Mayor Han Kuo-yu, the Chinese Nationalist Party's (KMT) presidential candidate.
Photo: Hsieh Chun-lin, Taipei Times
Taiwanese must reject all the pro-China parties in tomorrow's elections, including the KMT, the New Party and the People First Party (PFP), and get rid of Han, he said.
The judiciary must investigate the finances of New Party Chairman Yok Mu-ming (郁慕明) and New Party at-large nominee Chiu Yi (邱毅), Pan said.
"We have received reports from people that Yok and Chiu have money flowing into their accounts from China. This should be investigated under the recently passed Anti-infiltration Act (反滲透法). I am sure they will be found guilty, with clear evidence of violating the act, which will land them both in prison," Pan said.
Former TSU legislator Chou Ni-an (周倪安) said Taiwanese have a distinct cultural and national identity apart from China and are opposed to becoming part of China
"Yok and Chiu's New Party are advocating for 'one country, two systems' model for fast tracking unification with China. This is pushing us into the fire pit, making Taiwanese like Tibetans, Uighurs and Hong Kongers, who are under the oppressive rule of a Chinese dictatorship," she said.
The TSU needs the support of Taiwanese voters in this election so that such a staunch pro-Taiwan party will not lose to the pro-China New Party, she added.
If the TSU does not improve its showing over the 2018 election, it might have to fold, Chou said.
Comments will be moderated. Keep comments relevant to the article. Remarks containing abusive and obscene language, personal attacks of any kind or promotion will be removed and the user banned. Final decision will be at the discretion of the Taipei Times.