2020 Elections: First-time voters choose wisely: Lin
HONG KONG MESSAGES: Actor Chapman To sent him a video calling on Taiwanese to safeguard their democracy and liberties, the DPP's deputy secretary-general said
Tomorrow's presidential election is one in which voters will select the future they want for the nation, Democratic Progressive Party (DPP) Deputy Secretary-General Lin Fei-fan (林飛帆) said yesterday, calling on 1.18 million first-time voters to carefully consider their votes.
"Do we want to enjoy fleeting economic benefits by choosing to be friendly with China, or choose not to bow to Chinese oppression and in so doing, strengthen the foundation for Taiwan's economy, society and nation?" Lin said. "That is the decision you are making on Jan 11."
He said he had received a video from Hong Kong actor Chapman To (杜汶澤) yesterday morning, who said: "I hope this video could help. Taiwan must not lose."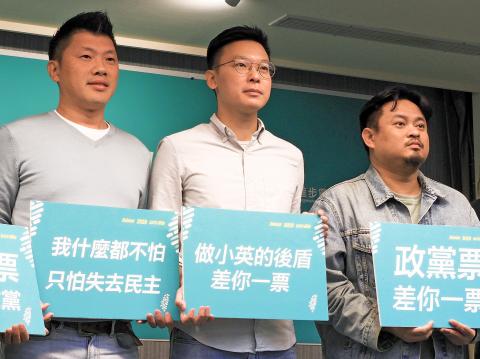 Democratic Progressive Party (DPP) Deputy Secretary-General Lin Fei-fan, center, and young DPP members hold signs at a news conference in Taipei yesterday reminding young voters that every vote counts to ensure a DPP victory tomorrow.
Photo: Chen Yu-fu, Taipei Times
Taiwanese must safeguard their own democracy and voters should not frivolously give up their vote, To said in the video.
"The freedom and liberties of democracy in Taiwan are a basic right, but for many Hong Kongers and their children, they are distant things and unattainable, even with blood," To added.
Lin said he received the video with a heavy heart.
In the past few days he has seen videos made by Hong Kong Legislator Eddie Chu (朱凱迪) and democracy advocate Joshua Wong (黃之鋒) expressing the same sentiments, Lin said.
"They harbor the hope that Hong Kong could, in the future, become like modern Taiwan," he said.
Statistics show that turnout of young voters over the past few years has decreased, with only 56 to 57 percent of young voters, defined as between 20 to 29, turned out to vote in 2018, he said.
Older voters turned out in greater numbers in the last major election, so the DPP could not afford to be optimistic about tomorrow's elections, he said.
"While the DPP is not perfect, we do reflect upon our mistakes," he said, adding that Taiwanese have given the party many chances.
The people are leading the DPP in making the reforms, he added.
In Yilan County yesterday, where DPP Chairman Cho Jung-tai (卓榮泰) was stumping for DPP Legislator Chen Ou-po (陳歐珀), Cho said President Tsai Ing-wen (蔡英文) deserved re-election precisely because she is running against Kaohsiung Mayor Han Kuo-yu (韓國瑜), the Chinese Nationalist Party's (KMT) candidate
"We must show the world that we can elect a decent president, instead of a frivolous and flippant candidate," Cho said.
If the DPP fails to achieve legislative majority again, Tsai would become a "lone reformer," Cho said.
Voters should cast their political party votes for the DPP so it can carry out its policies, he said.
Comments will be moderated. Keep comments relevant to the article. Remarks containing abusive and obscene language, personal attacks of any kind or promotion will be removed and the user banned. Final decision will be at the discretion of the Taipei Times.