Table tennis player to return for Olympics
THE ROAD AHEAD: Even though Chuang Chih-yuan has agreed to return to the national team, they still need to qualify in a tournament in Portugal later this month
Table tennis player Chuang Chih-yuan (莊智淵) has agreed to return to the national team and compete at the Tokyo Summer Olympic this year, the Sports Administration said yesterday.
The four-time Olympic athlete in September last year announced that he would leave the national team, as he would be unable to accumulate enough points to qualify for the Olympics after withdrawing from the Asian Table Tennis Championships and the Paraguay Open.
After the September announcement, the Sports Administration and Chinese Taipei Table Tennis Association (CTTTA) said they spent three months trying to change his mind, and on Wednesday, Sports Administration Director-General Kao Chin-hsung (高俊雄), CTTTA Chairman Lin Mao-rong (林茂榮) and Taiwan Cooperative Bank chairman Lei Chung-dar (雷仲達) went to Kaohsiung to meet with Chuang and his mother.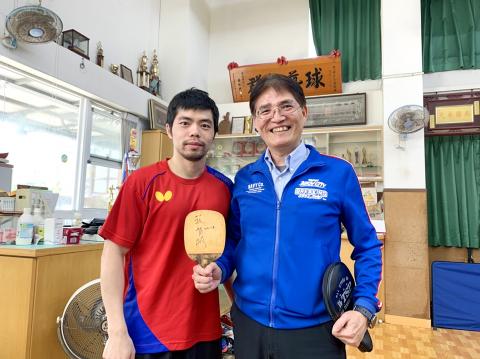 Sports Administration Director-General Kao Chin-hsung, right, and table tennis player Chuang Chih-yuan are pictured in an undated photograph.
Photo courtesy of the Sports Administration
"I was the president of National Taiwan Sport University when his wife was a student there," Kao said. "Because of this connection, we had a rather pleasant talk yesterday morning. He was also happy because he just became a father and was busy taking care of his baby in the past few months."
"Even though Chuang has not been under an intensive training lately, he should have no problem returning to the national team given his extensive experience," he said.
Chuang would lead the team at the International Table Tennis Federation (ITTF) World Team Qualification Tournament in Portugal from Jan. 22 to Jan. 26.
Winning the tournament is crucial to ensure the men's and women's teams, which are ranked globally as No. 5 and No. 3 respectively, qualify for the Olympics, where there are only nine spots, the Sports Administration said.
They leave for pretournament training in Portugal on Friday and Saturday next week.
At the end of last year, table tennis players Lin Yun-ju (林昀儒) and Cheng I-ching (鄭怡靜) secured the Olympic qualification in mixed doubles after winning the ITTF World Tour in China's Changzhou City.
Comments will be moderated. Keep comments relevant to the article. Remarks containing abusive and obscene language, personal attacks of any kind or promotion will be removed and the user banned. Final decision will be at the discretion of the Taipei Times.