HPA warns to take caution in winter weather
The Health Promotion Administration (HPA) on Friday said people with cardiovascular disease should use caution in cold weather, as acute cardiovascular disease events are more likely to occur.
The common conditions include chest pain, difficultly breathing and dizziness in men, and nausea, hand numbness, backaches and difficultly breathing in women, it said.
To alleviate the effects of cold weather and the sharp temperature differences between day and night, the agency said that the elderly, people with cardiovascular disease and those with the so-called three "highs" — high blood pressure, lipids and sugar — take their medication regularly, make follow-up clinic visits and maintain a healthy diet.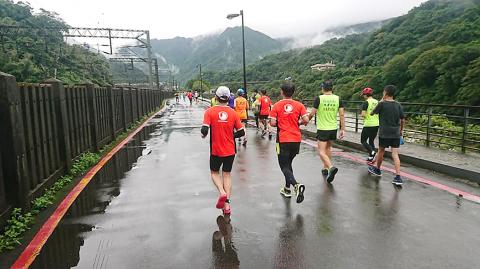 Some of the more than 3,000 participants in the annual Rotary Run that started at Rueifang Junior High School in New Taipei City's Rueifang Township run along Keelung River on Sept. 29.
Photo: Yu Chao-fu, Taipei Times
Regularly measuring and recording blood pressure is the most important thing to do, it said.
Cardiovascular events such as a heart attack and stroke could be fatal, but seeking medical assistance early could lower the risks of death and disability, the agency said.
Symptoms that call for further attention include chest pain, tightness in the chest, difficulty breathing, indigestion, heart palpitations, cold sweat, dizziness, fatigue, nausea and vomiting, it said, adding that people who have a history of heart disease should keep their National Health Insurance card and emergency medication with them at all times.
Winter is a high-risk season for strokes, and any sign of a stroke, even if the condition eventually improves on its own, requires an immediate health check, as delaying medical assistance could result in complications later, it said.
Runners are also at risk in cold weather, HPA Director-General Wang Ying-wei (王英偉) said, adding that as winter is the season when most marathons are held, runners should ensure they get sufficient sleep, eat breakfast and properly warm up before starting early morning runs.
They should also drink water during a marathon, and stop immediately for medical help should any discomfort occur, he added.
Blood vessels contract and blood pressure increases when temperatures shift quickly between daytime and nighttime, increasing the risk of heart attack and acute stroke, he said, adding that dressing warm is a must.
Comments will be moderated. Keep comments relevant to the article. Remarks containing abusive and obscene language, personal attacks of any kind or promotion will be removed and the user banned. Final decision will be at the discretion of the Taipei Times.