FEATURE: Floundering at first, CSBC rises back to deliver maritime research vessels
Building research vessels helped CSBC Corp, Taiwan's (CSBC) Keelung Yard endure a period of struggling, company officials said, adding that the experience also prepared it for building higher-end ships as it has been selected to build indigenous defense submarines.
The shipyard has a history stretching back to the Japanese colonial period before it was acquired by the company.
The largest shipbuilder in Taiwan, CSBC was established as a state-run firm in 1973 before becoming a private enterprise in 2008.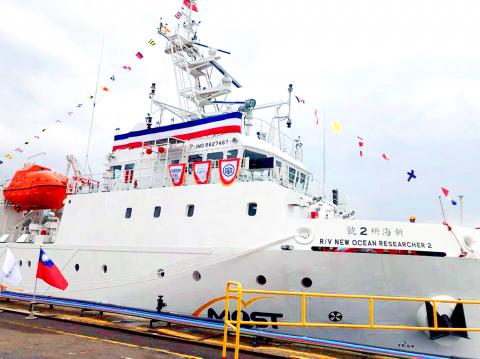 The R/V New Ocean Researcher 2 is pictured at CSBC Corp Taiwan's Keelung Yard yesterday.
Photo: CNA
After several reorganizations, the company is now headquartered in Kaohsiung, with shipyards in Kaohsiung's Siaogang District (小港) and on Keelung's Heping Island (和平島).
Amid a declining global shipbuilding industry, the Keelung Yard has received fewer orders for merchant ships over the past two years, CSBC project manager for research vessels Shih Yen-hui (施炎輝) told the Taipei Times on Nov. 11.
Fortunately, it won the Ministry of Science and Technology's tender for three new research vessels and started their construction in January last year, he said.
At a ceremony yesterday, the company delivered two 811-tonne vessels, the R/V New Ocean Researcher 2 and the R/V New Ocean Researcher 3, to the ministry, which is to transfer them to National Taiwan Ocean University and National Sun Yat-sen University's College of Marine Sciences for management.
The 2,155-tonne R/V New Ocean Researcher 1 is scheduled to be delivered next year and would be managed by National Taiwan University's (NTU) Institute of Oceanography.
CSBC is not the first Taiwanese company to build vessels for local research.
The R/V Ocean Researcher II and R/V Ocean Researcher III, which the new vessels would replace, were built by Ching Fu Shipbuilding Co, which in 2017 became entangled in a scandal involving naval minesweepers.
The R/V Ocean Researcher V built by Jong Shyn Shipbuilding Co was shipwrecked east of the outlying Penghu County while returning to the Port of Anping (安平港) in Tainan in 2014.
CSBC had not built such small and sophisticated ships as research vessels, as it used to build merchant ships, whose instruments and sea trials are easier to tackle, Shih said.
The most challenging part of building the research vessels was installing state-of-the-art research instruments in the limited space aboard, he said.
As the instruments and some of the devices were imported from different countries — such as Australia, Denmark, Germany, Italy, Japan, Norway, Poland, South Korea and the US — the first challenge was to ensure that they could be delivered to Taiwan on time so that construction could proceed according to schedule, he said.
The research instruments, including multibeam echo sounders, as well as sonar and profiling systems, were new to him, Shih said.
After installing and testing the imported devices, CSBC invited the manufacturing firms' engineers to confirm that they functioned properly and train the vessels' operators, as required by its contract with the ministry, he said.
The company was required to meet ship specifications and standards decided by several parties — the ministry, the CR Classification Society and the American Bureau of Shipping — to obtain certificates, he said.
As it lacked experience in coordinating such matters, CSBC had to make the vessels larger to accommodate the instruments while ensuring that the ships would be stable, Shih said, adding that it might have to pay millions of New Taiwan dollars for breaching contracts.
The need to build larger ships should have been detected at earlier stages, he said.
The 811-tonne vessels were planned as 500-tonne vessels and the 2,155-tonne ship was planned as a 1,000-tonne vessel.
Nevertheless, the company still guarantees that the ships would achieve the highest possible performance and have the same fuel consumption rates as planned without having to use second-rate facilities or reducing the sailing speed, Shih said.
The company did not make a profit from the vessels, he added.
Academics and technicians from the three universities, especially those from NTU's Institute of Oceanography, also offered the company advice during the process, he said.
Besides the challenges posed by the complex instruments, other obstacles were more manageable, Shih said, adding: "After all, it is not our first day building ships."
The company has learned a great deal by building the research vessels, which prepares it for building more complicated vessels such as submarines or destroyers, he added.
The indigenous defense submarine program is an important policy put forward by President Tsai Ing-wen (蔡英文), Keelung Mayor Lin Yu-chang (林右昌) of the Democratic Progressive Party said last month when reporting to the Keelung City Council.
Nearly 10,000 jobs would be created in Keelung by suppliers to the submarine industry, Lin said.
Confirming the plan at the delivery ceremony yesterday, CSBC chairman Cheng Wen-lon (鄭文隆) said the company has been preparing for the program for two or three years and he has invited foreign developers to inspect Keelung Yard.
Nearly two-thirds of the world's shipbuilders have closed over the past few years due to stagnation, while CSBC has survived by building domestic vessels and reaching the offshore wind farm industry, Cheng said.
It has designated a plot at the shipyard to build five new plants for naval development, he said, adding that one is expected to start construction in March next year.
The company has won the Ministry of National Defense's tender to build eight submarines, he said.
The indigenous development rate of the first submarine is estimated to reach 41 percent, Cheng said, calling on Taiwanese researchers and engineers to join the program.
Nearly 500 people are employed at Keelung Yard, but many would be retiring soon, Keelung Yard director-general Tang Jung-kuei (唐榮貴) said.
Building submarines would be a new task for them, which could bring in more investment, but also requires careful planning of new production lines, the introduction of new methods and talent cultivation, Tang said.
Shipbuilding involves many levels of work, ranging from manual labor to high-end planning, while employees often have to work in tough environments, making the industry less attractive to young people, he said.
While the global shipbuilding industry is stagnating, it is also an opportunity for the company to enhance itself and make adjustments, he said, adding that it also seeks to improve workplace conditions for new talent.
Comments will be moderated. Keep comments relevant to the article. Remarks containing abusive and obscene language, personal attacks of any kind or promotion will be removed and the user banned. Final decision will be at the discretion of the Taipei Times.