Malignant tumors take nearly 4 years off life expectancy
Malignant tumors are still the leading cause of death in Taiwan, affecting average life expectancy by nearly four years, Ministry of the Interior statistics showed.
Last year, the average life expectancy in Taiwan was 80.69 years. It increased by 3.94 years after excluding deaths caused by malignant tumors and 1.69 years after excluding deaths caused by heart disease, information released by the ministry on Wednesday showed.
Malignant tumors have been the leading cause of death in Taiwan for the past 37 years, while heart disease has been the second for the past 11 years, the ministry said.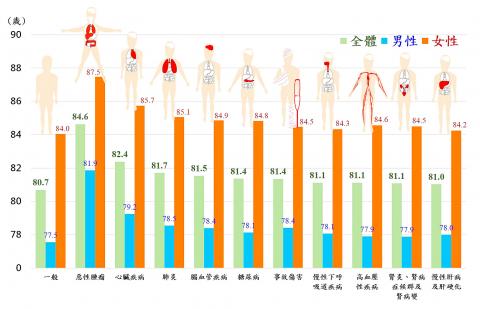 A bar chart shows Taiwan's overall average life expectancy, as well as the average for men and women, along with what those figures would be after excluding various causes of death.
Graphic courtesy of the Ministry of the Interior
If average life expectancy increases greatly after a cause of death is eliminated, then that cause plays a major role in the number of deaths, the ministry said.
The number of lives claimed by malignant tumors has increased every year for 10 years, accounting for more than 27 percent of all deaths over the same period, the ministry said, adding that smoking, a poor diet, work stress and a person's living environment can cause malignant tumors.
However, the effect of malignant tumors on average life expectancy dropped from 4.19 years in 2013, showing that prevention measures adopted by authorities in the past few years have been effective, the ministry said.
Pneumonia was the third leading cause of death in Taiwan last year, the ministry said, adding that the number of deaths and the percentage of total deaths attributable to pneumonia have risen every year for the past five years.
The effect of pneumonia on average life expectancy increased from 0.79 years in 2011 to 1.02 years last year, showing that the government should continue to prioritize pneumonia prevention, it said.
Some causes of death affect men more than women, including malignant tumors, cerebrovascular diseases, unintentional injuries, chronic lower respiratory diseases, chronic pulmonary diseases and cirrhosis, while women are more affected by diabetes, hypertensive diseases and kidney diseases, the ministry said.
Factors that contribute to the differences between women and men might include occupation, physiology, diet and stress, the ministry said.
Comments will be moderated. Keep comments relevant to the article. Remarks containing abusive and obscene language, personal attacks of any kind or promotion will be removed and the user banned. Final decision will be at the discretion of the Taipei Times.