Heart failure as worrying as cancer: heart group
PREVENTION: The Taiwan Society of Cardiology's 'My Heart, Your Heart' project includes short videos to educate people about the dangers of heart disease
Cancer is a top concern for many, but statistics for Taiwan show that people should be equally wary of heart disease, according to Taiwan Society of Cardiology executive president Huang Jui-jen (黃瑞仁).
Medical technology enables people to live longer, but the more people there are who live longer, the more people there are with heart problems, Huang said, adding that about three out of every 100 people are diagnosed with chronic heart failure.
In Taiwan, more than 70,000 people a year are hospitalized after heart failure, of which 32.3 percent are discharged but readmitted within six months, Heart Failure Registry statistics showed.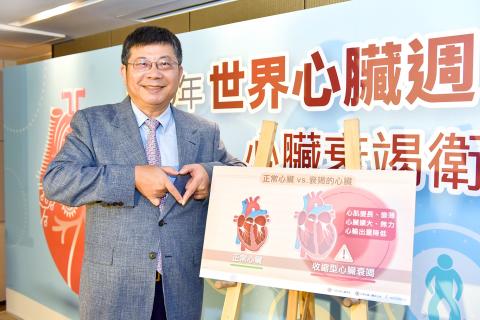 Taiwan Society of Cardiology executive president Huang Jui-jen gives a news conference in Taipei on Friday to announce World Heart Week, which culminates on next Sunday with World Heart Day.
Photo provided by Taiwan Society of Cardiology
Reasons for the high hospitalization and mortality rates include missed medication; insufficient water and sodium intake; concurrent urinary or respiratory tract infections; and sudden dysrhythmia, heart palpitations or another heart attack, Huang said.
People with heart disease, a family history of heart problems, or the three "hypers" — hyperglycemia, hyperlipidemia and hypertension — are susceptible to heart failure, he added.
If people tire easily, become short of breath when walking, experience swelling in their feet, or have a persistent cough with white or blood-tinged phlegm, then they should see a doctor immediately, he said.
The main cause of heart failure is coronary heart disease, and the best way to avoid or lessen the condition is to quit smoking and avoid getting any of the three "hypers," Huang said, adding that vaping is as detrimental to health as cigarettes.
The "My Heart, Your Heart" project was initiated this year to increase public awareness of heart disease, the Taiwan Society of Cardiology said, adding that short videos were also produced to help educate the public about the disease's dangers.
Comments will be moderated. Keep comments relevant to the article. Remarks containing abusive and obscene language, personal attacks of any kind or promotion will be removed and the user banned. Final decision will be at the discretion of the Taipei Times.