Owners of small Taipei hotels, hostels complain about accessible room rules
PROTEST PLANNED: Owners complain they have not been able to recoup money spent to bring their facilities up to barrier-free requirements
More than 100 Taipei hotels and hostels have installed facilities for the physically challenged as required by the People with Disabilities Rights Protection Act (身心障礙者權益保障法), but proprietors have complained about the law and plan appeals, the Taipei Hotel Association said on Sunday.
The additional facilities needed to comply with the act are costly and have largely gone unused, the association said.
A protest is being planned for November outside the Construction and Planning Agency and the Taipei City Government to back demands that the act be amended, it said.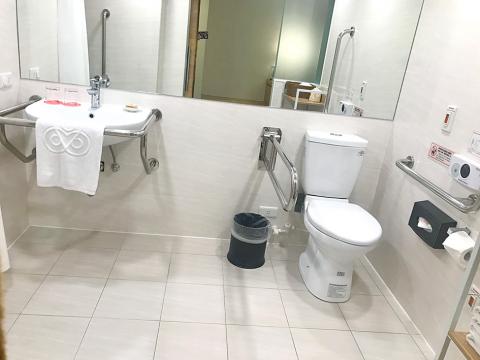 A barrier-free hotel bathroom in Taipei is pictured on Saturday.
Photo: Tsai Ya-hua, Taipei Times
An amendment introduced in 2013 requires existing public buildings to install accessibility equipment for the physically challenged, and also required hotels with 50 to 99 rooms to have at least one access-equipped room for them, while larger hotels have to have one accessibility-equipped room for every 100 rooms.
Those failing to comply could be fined from NT$60,000 to NT$300,000 (US$1,933 to US$9,667).
The Taipei City Government in 2014 began offering subsidies to help hoteliers upgrade their facilities, and 104 of the 183 small hotels and hostels have completed upgrades, it said.
Association director Wei Chien-hua (韋建華) said some hotels spent NT$500,000 to make accessible rooms only to see them go unused.
Many larger hotels have only have one or two accessible rooms, but tour groups of physically challenged people might have 20 or 30 people needing rooms, he said.
Many physically challenged people travel with partners who prefer to stay in regular rooms, and many accessible rooms are only occupied once or twice a month, he said.
Nationwide there are about 3,700 rooms designed to cater for the physically challenged, he said.
If they remained unused 300 days a year, the industry would collectively lose NT$3.7 million for each of those days, or NT$1.1 billion annually, he said.
Owners of small hotels and hostels believe there should be a new industry to cater specifically for the physically challenged, he added.
Taipei Construction Management Office spokesman Horng Der-haur (洪德豪) said the issue concerned a national law and so is out of the city government's hands, but last month he passed along the complaints to the central government.
The Ministry of the Interior's Construction and Planning Agency would be the one to decide whether to amend the act, he said.
The proprietor of a larger hotel said they have a 70 percent occupancy rate for their two accessible rooms and booking the rooms was not a problem if good quality service was provided.
Hsu Chao-fu (許朝富), secretary-general of the Access for All Association, said Taiwan's aging population meant that demand for accessible rooms is likely to increase.
"If proprietors do not address the need now, they will regret it tomorrow," he said.
Those having trouble getting bookings for their accessible rooms had likely not spent enough on their facilities, including metal support bars and railings, so physically challenged travelers would not choose those rooms, he said.
Comments will be moderated. Keep comments relevant to the article. Remarks containing abusive and obscene language, personal attacks of any kind or promotion will be removed and the user banned. Final decision will be at the discretion of the Taipei Times.