Village aims to cut down blue light by using OLED
Qalang Smangus Village (司馬庫斯) in Hsinchu County aims to reduce the negative effects of blue light by using organic light-emitting diodes (OLED) developed by a research team at National Tsing Hua University.
"The aim is to have the OLEDs emit about as much as a candle to ease the impact of light on residents, as well as flora and fauna," said Jou Jwo-huei (周卓煇), the professor who led the research.
Jou, along with village head Masay Sulung, village elder Yuraw Icyang and Smangus Church pastor Yarah Pihu, announced the decision at a news conference on Friday.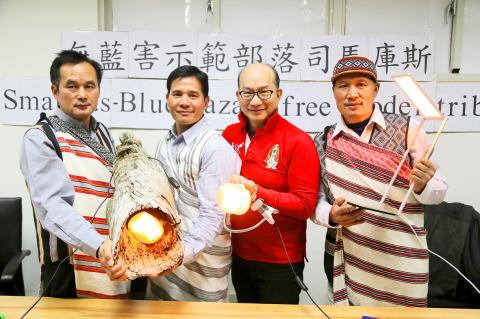 National Tsing Hua University professor Jou Jwo-huei, second right, and Qalang Smangus Village head Masay Sulung, right, attend a news conference in Hsinchu County on Friday, showcasing new organic light-emitting diodes.
Photo: CNA
The Atayal village was used to more traditional ways of lighting, such as candles, until the introduction of electricity in 1979, Yarah said.
"Since then, we have used electric lights, but found that the brightness attracts many insects to their deaths," Yarah said, adding that while modern light sources are convenient, they negatively affect nature.
The villagers have used lower-wattage lightbulbs and limited their use, Yarah said, adding that they built wooden light covers to be closer to nature while cutting down on light pollution.
"By adopting the OLED developed by Jou, we hope to protect nature and the eyes of villagers," Yarah said.
Two streetlamps using OLEDs had been used in the village as early as 2014, but they were abandoned due to dampness in the mountainous area as well as a lack of mass production capability, Jou said.
However, the university has now patented the technology and acquired mass production capability, so it is in a position to help provide the village with non-blue-light sources, he said.
About 100 street lights are to be replaced, Jou said, adding that the goal is to use the OLEDs his research group developed at service centers and other public spaces.
"We hope this measure would lower light pollution and allow visitors to experience non-blue-light illumination," Jou said.
Comments will be moderated. Keep comments relevant to the article. Remarks containing abusive and obscene language, personal attacks of any kind or promotion will be removed and the user banned. Final decision will be at the discretion of the Taipei Times.